By
Phil
- 24 March 2020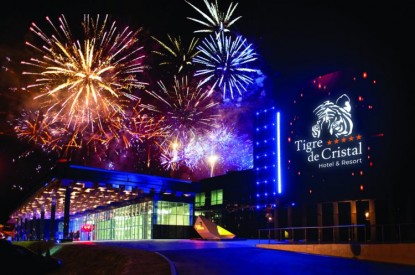 Summit Ascent Holdings, who owns 60 per cent of Oriental Regent Limited, who operates Tigre de Cristal in the Russian Far East, has said the casino saw an increase of 18 per cent in EBIDTA and a 15 per cent increase in revenues in 2019.
Adjusted Property EBITDA generated came in at HK$214.8m in 2019, up from HK$181.4m in 2018, whilst revenue came in at HK$532.8m.
Profit saw a significant increase to HK$82min 2019, compared to HK$7.6 million in 2018. The slot business outperformed the company's other lines of business in 2019 and recorded revenue of HK$185.6m, up 30 per cent compared to HK$142.9m in 2018. Rolling chip business also saw significant improvement with revenue increasing by 12 per cent from HK$109.5m in 2018 to HK$122.5m in 2019.
New Chairman Chau Cheok Wa said: "2019 was a year of significant positive transformation for Summit Ascent as Suncity Group Holdings became the largest shareholder of the company, and I took the reins as Chairman and Non-executive Director of the Company. We are excited to apply our extensive experience in the rolling chip business to move up the value chain at Tigre de Cristal and have been rapidly making alterations and improvements to attract and retain our discerning clientele.
"I believe that the company fits well within Suncity's pan-Asian growth strategy and integrated resort portfolio due to its low tax regime, professional workforce, and enviable geographic location in the heart of Northeast Asia. We are also excited to announce that the construction of our luxurious new Suncity VIP room at Tigre de Cristal is nearing completion and will welcome VIP guests soon. Later this year, we expect to add approximately 30 hotel rooms through an extension to the existing property, thereby mitigating our shortage of rooms on peak weekend times and expanding our lodging capacity by approximately 25 per cent."
In addition, a new private club, a new hot pot section in Pan-Asian restaurant, and stand-alone noodle bar are being added to the property's amenities.
"We are also proud that the company managed to post its second consecutive year of profit growth, and our majority-owned operating property maintained positive EBITDA expansion during this period of transition," he added. "The team in Hong Kong, and at Tigre de Cristal in the Russian Federation, have continued to manage the business with a high degree of discipline and professionalism, and I would like to thank them for their contributions – especially during the first quarter of 2020 as they have continued to work diligently and implemented health and safety measures on-site to mitigate any risk arising from the Coronavirus Disease."
Phase II of the project will see it more than double the rooms of the existing property with world class gaming facilities, an indoor beach club and other premium dining and retail facilities.
Mr. Chau added: "Despite obvious short term challenges, we remain optimistic on our business prospects going forward due to the ongoing economic development and positive metamorphosis of the Primorye Integrated Entertainment Zone and the Russian Far East, our belief in the resilience of the Northeast Asian economies, and the continued support of our directors, management and staff, and our shareholders and investment partners."