By
Phil
- 3 June 2015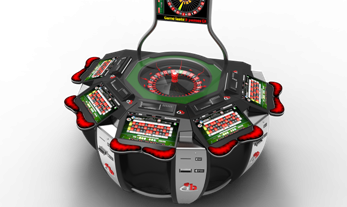 Interblock has installed its first Mini Star Roulette product in Serbia, and now the Playoff Casino in Kragujevac is home to the country's first Mini Star 5 electronic roulette product.
The Playoff Casino is famous for offering its players only the most modern and highest quality games, and now Interblock's Mini Star 5 electronic roulette game brings a touch of diamond-level luxury gaming to the casino. Adding to the excitement is the game's field-proven Golden Chip Progressive Jackpot, which deepens the dimension of fun of the Mini Star Roulette experience.
The Mini Star 5 electronic roulette game is the property's first electronic table game, and replaces an older version of roulette found on the property. The game is fully installed now and is ready for Playoff's customers to enjoy the fun and thrill of this unique gaming product.
Speaking for Playoff Casino, Zoran Živojinović said: "I am very proud and happy that we have purchased Interblock's beautiful Mini Star Roulette. I appreciate Interblock's game quality and the overall luxury brand of Interblock. Based on that and on our great business relationship, we decided to move forward with this installation, and we are excited to bring this game to our players."
Interblock Regional Sales Manager Mr. Klemen Caleta said: "This is another successful installation in Southeastern Europe, which proves that Mini Star Roulette is a success in this region. We are very proud to welcome our partner from Serbia (PLAYOFF) in our Interblock family. We can say, based on our experience, that the product with Golden Chip Jackpot will be well accepted by the players."