By
Phil
- 10 December 2014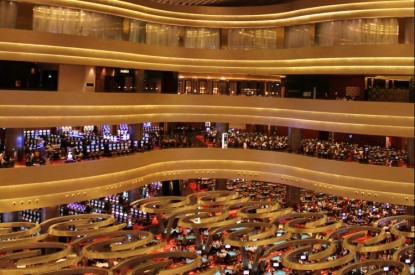 The fight for VIP customers is heating up in Singapore where the dwindling stream of Chinese high-rollers has seen Resorts World Sentosa and Marina Bay Sands intensify their VIP efforts.
Genting Singapore third quarter profit was down by 43 per cent whilst Las Vegas Sands' most recent quarterly results saw its revenue down by 8.7 per cent.
Analysts believe the same austerity crackdown in China that is affecting Macau's casino sector is also now the norm in Singapore with the Chinese government investigating large cash outflows amid a crackdown on corruption. Regulations brought in this year against decadence prohibit the use of luxury cars, gifts for government officials, and reduce special privileges that politicians and businessmen have become accustomed too. As a result VIP spend has been dramatically affected. Marina Bay Sands said its VIP betting volume had dropped by 34 per cent.
As a result, Genting is trying to attract VIPs by offering what Las Vegas Sands' owner Sheldon Adelson called easy credit and overly generous incentives.
"Maybe one day, they will get used to competing on the basis of a quality product. If they ever build one, they won't have to buy the business," Mr. Adelson said.
Genting itself said: "The Asian gaming and tourism industry is experiencing significant challenges in the face of economic slowdown in our major visitor markets. We continue to spend in areas of marketing and promotions to improve new and repeat visitation both in the gaming and non-gaming businesses."
CMC Markets analyst Desmond Chua revealed that VIP players from China made up 50 per cent of Marina Bay Sands' premium revenue segment. "With that slowdown and with Asian governments, such as Japan, Korea and the Philippines, also keen to set up the gaming industry, I believe the boom years that we saw previously are now over – even though the casinos will remain profitable in the long term," he said. "It's only normal that operators will resort to more incentives and easy credit to attract VIPs. Reports have shown that this has led to higher non-receivables which, in turn, affect the financials. Margins are likely to be hurt too."
Voyage Research's analyst Ng Kian Teck said: "While RWS and MBS will remain profitable, the industry is facing a lot more challenges, not just in terms of gaming, but also the overall slowdown of tourist arrivals in Singapore."
Richard Huang, an analyst at CLSA, believes that the decline in the VIP gaming segment should though be offset by improvements in the mass gaming market but it still might not be enough.
"Genting's valuation isn't that attractive compared to the Macau casinos," he added.
Alan Richardson, an analyst at Samsung Asset Management, added: "I will take a more wait-and-see approach on Genting. For the foreseeable future, the profitability of the business will still deteriorate. It could take a while before fundamentals actually start to turn."
In other news, Singapore's National Council on Problem Gambling is launching a new campaign to raise awareness in problem gambling.
The council is working with Addiction Advertising as it looks to appeal to the council's target audience 'in a positive manner that conveys hope for recovery while demonstrating how problem gambling can affect one's family members and encourage help-seeking behaviour among problem gamblers and/or their family and friends.'