By
Lewis
- 19 September 2013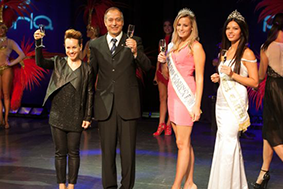 In 1993, Nova Gorica, the city of roses, came forth on the Slovenian and Europe tourist destination map with the opening of the largest gaming and entertainment centre in Slovenia. This particular year in Slovenia was dedicated to tourism and gaming company Hit realised an idea, modelled on Las Vegas, to offer its guests a diverse, attractive and different form of entertainment than the one offered in existing European casinos.
Perla prepared an interesting programme to celebrate its 20th anniversary, which took place over several days, and started on Wednesday, 11 September 2013. Guests were greeted with a banquet, an all-night entertainment programme with Muriel the caricaturist, Meningue the entertainer, and music entertainment by Georges Montagner Band. In the Arena show room the guests enjoyed in the Celebrations cabaret dance show by Bor Productions. The guests will remember Wednesday night for the beautiful concert of the legendary Croatian singer Josipa Lisac, whereas on Thursday, the guests were entertained by the Italian singer Alexia, a star of the 90's European dance music. The Perla confectioners proved themselves on this occasion with an excellent and breathtaking cake.On Friday night, a special prize draw took place, where an Italian guest won a unique watch designed especially for Perla's 20th anniversary by the renowned Venetian watchmaker Francesco Basile. On Saturday, the Perla Poker Room hosted the end of the Wild4Poker tour, which was also a charity event.
Perla, the first comprehensive gaming and entertainment centre in Europe, where gambling is inextricably linked with other options for leisure time spending, opened its doors on 11 September 1993. Since its opening, Perla has offering a number of tourist programmes and activities throughout the year, 24 hours a day, all under the same roof. Today, its guests can enjoy a comfortable accommodation in 225 rooms and 24 suites, and try their luck in the casino at 57 gaming tables and 1,138 slot machines, including the slots located in the Open Air Casino, where the guests are allowed to smoke while playing.There is also a modern Poker Room featuring 30 gaming tables, which brings numerous Poker players to Nova Gorica, who are also attracted by the wide food and wine offer in four restaurants. The calendar of entertainment programmes, concerts, dance shows etc. is as colourful as it is varied.
The gaming and entertainment centre in Nova Gorica has been visited by 14.5 million guests since its opening and confirms the offer's quality and diversity. More than 10,000 musicians, dance and music groups, cabaret performers as well as ice skaters, animals etc. have performed on Perla's stage in the past two decades. Among Perla's guests we can find world-class stars like Dianne Warwick, Village People, Cesaria Evora, Miriam Makeba etc. distinctive voices and faces of Italian music such as Giorgia, Nek, Lucio Dalla, Mario Biondi, Albano, Tiziano Ferro, I Pooh, Ornella Vanoni, Gino Paoli, Irene Grandi, Nina Zilli, Giusy Ferreri, Malika Ayane, Gemelli Diversi and Slovenian musicians like New Swing Quartet, Zoran Predin, Vlado Kreslin, Jan Plestenjak, Pepel in kri, Magnifico, Perpetuum Jazzile.
Perla, which 20 years ago laid the foundations of a new model of European gaming tourism, is now known in the business community as an attractive convention destination, suitable for the organization of conference as well as small business events, custom-made for each client and on turn-key basis, accompanied by moments of relaxation in the heart of the Spa Perla Wellness Centre. Guests from abroad are especially attracted by the proximity of the enchanting Venice. Guests who stay here for several days have the possibility to get to know and spend their free time in Nova Gorica and its surroundings, the Soča Valley, Goriška Brda and the Vipava Valley, the Karst, Postojna and the famous Postojna Cave, Ljubljana and Gorenjska Region. In 2014, the Perla will also host the largest Slovenian Incoming Workshop – SIW 2014.