By
Phil
- 10 July 2023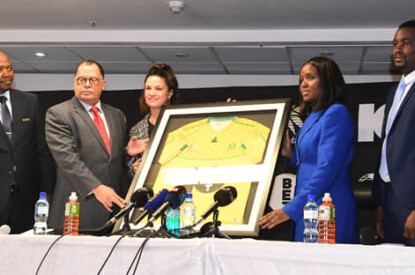 The South African Football Association (SAFA) officially announced global online sportsbook and games operator, 10Bet Sports as the Official Betting Partner of the Men's National Team in a four-year deal.
This partnership marks an exciting milestone for both parties, as they join forces to enhance the experience of fans and communities.
"We are delighted to partner with 10bet South Africa," said SAFA CEO Lydia Monyepao. "This is the beginning of a relationship between two ambitious and forward-thinking brands. We hope this partnership will help us bring fans the best possible product and experience and continue growing South African football."
10Bet is thrilled to work together with SAFA, who runs the national team and is the governing body for soccer in South Africa. Bafana Bafana, which is the men's national team nickname, is an essential part of the country's lively sports culture and the fan's passions. Through this partnership, 10Bet aims to be at the center of fan engagement opportunities and create lasting impact through community initiatives.
"This is an exciting partnership based on pride, passion, and love of the beautiful game," said Michelle Henriques Colborne, Chief Revenue Officer at 10Bet South Africa. "Bafana Bafana, an iconic brand that's at the heart of millions of South Africans and one that has played a pivotal role in bringing people together, generating excitement, and positively impacting communities is a perfect fit for our growing brand locally."
10Bet's outstanding sports betting coverage includes competitive odds on more than 65,000 events a month – including 25,000 in-play events – across over 60 sports, with more than 2,000 bet types and the industry's most advanced betting features. With convenience at its core, the 10Bet App is compact, fast, and easy to use. Customers can view the latest matches and place bets, access, and play games as well as make safe and secure deposits and withdrawals, all from the palm of their hands. The App is available for download on the 10bet website and via the Huawei App Gallery.