By
Phil
- 26 March 2015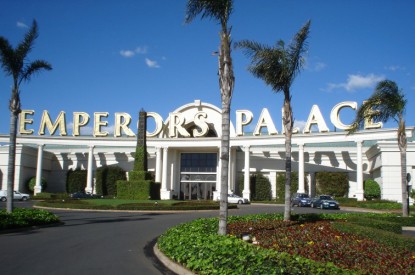 Sun International is to buy rival casino and hotel group Peermont adding nine casino resorts, including Peermont's flagship Emperors Palace casino resort, three stand-alone hotels and one stand-alone casino, to its portfolio.
In creating a South African superpower, Sun will add 3,374 slots, 156 table games and 1,711 rooms from Peermont's portfolio.
The buyout gives Sun International the chance to increase gaming revenue from Gauteng, which is the provincial jurisdiction with the highest gambling spend in South Africa.
Emperors Palace is one of the largest casinos in South Africa with an attractive financial and operating profile. The property has an EBITDAM margin in excess of 41 per cent, which is well above the average of Sun International. It will also remove one of the objections to Sun's proposed relocation of its Morula licence from the current site in Mabopane to Menlyn Maine.
Agreements have been concluded between Sun and the holders of ordinary shares, preference shares and mezzanine debt in the Peermont Group, paving the way for Sun to buy 100 per cent of the Peermont Group.
In addition, Sun International and Peermont have reached agreement to settle the objection by Peermont to Sun International's Menlyn Maine project in Tshwane.
Sun International CE Graeme Stephens said: "Peermont has a number of complementary attributes that will enhance our group. These include the fact that Peermont has established and well maintained assets and infrastructure, particularly Emperors Palace, which also has extensive hotel and conference facilities. Their portfolio also has high EBITDA margins in excess of 37 per cent, and an experienced and highly regarded management team."
As a result of the Proposed Transaction, Sun International's portfolio of South African assets will be further diversified. This diversification has the effect of reducing Sun International's reliance on its GrandWest property in the Western Cape, which currently represents 27 per cent of the Group's EBITDA.
Mr. Stephens added: "Sun International remains committed to its strategy of diversifying the Group's portfolio to increase exposure to offshore opportunities, in particular Latin America. While the Peermont portfolio of assets will initially increase the proportion of the combined business that arises in Southern Africa, it also opens the possibility of further restructuring of local assets, with a medium term objective of creating a portfolio of fewer, larger, quality assets."
Peermont Group CEO Anthony Puttergill said: "The proposed transaction is a positive development for Peermont and supports the momentum that we have built during the past few years. We believe that a number of strong growth opportunities can be unlocked by being part of a larger and well-resourced Group."
The purchase consideration has been determined with reference to an enterprise value of Peermont of R9,425m. As at 31 December 2014, Peermont reported revenues of R3,253m and EBITDA of R1,205m. The Thaba Moshate casino resort in Burgersfort is scheduled to be opened during April 2015 and is anticipated to generate R40m EBITDA in its first full year of operations.
Emperors Palace contributed R872m of the EBITDA.
"Peermont shareholders will receive shares in Sun International as part of the proposed transaction and therefore stand to benefit from the critical mass and growth potential of the enlarged Sun International," added Mr. Puttergill.
Mr. Stephens added: "As a consequence of the settlement agreement between the parties, Peermont's objection to our proposed relocation of the Morula licence from the current site in Mabopane to Menlyn Maine has been withdrawn. While there is one remaining objection, it seems less likely to impede progress on the proposed relocation."
In the event that the acquisition of Peermont is not successfully implemented and Time Square at Menlyn Maine opens to the public, Menlyn Maine will issue Peermont with a financial instrument that obliges Menlyn Maine to pay Peermont a capital amount of R700m, which may increase to R900m in certain defined circumstances. This Note has a term of five years and is without fixed terms of repayment. The Note is guaranteed by Sun International.
Mr. Stephens added: "This acquisition will enhance Sun International's position and scale as a leading hotel, resort and gaming operator, which in turn positions it well to undertake larger developments and acquisitions globally."