By
Phil
- 15 November 2016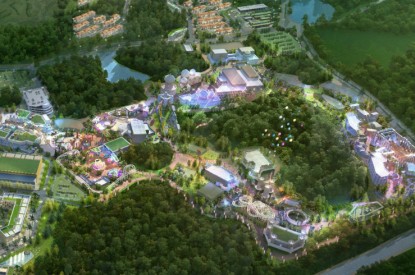 Genting Singapore has sold it share in the US$1.8bn Resorts World Jeju integrated casino project destined for Jeju Island in South Korea to its long-term partner in the project; Landing International for $420m.
No announcement has yet be made on whether the project will retain its original name of Resorts World Jeju, which is a brand owned and developed by Genting.
The deal has been completed through Genting Singapore subsidiary Algona Private Limited who has sold its 100 per cent share in Callisto Business Limited to Landing.
Callisto Business Limited owned 50 per cent of Landing Jeju Development Company Limited, which is developing Resorts World Jeju.
Genting said it was selling its interests in the project to concentrate on its casino in Singapore and also to keep funds reserved for potential gaming developments in Japan. It revealed the deal represented a 'modest gain' with its total investment in Callisto Business Limited amounting to $380.76m.
Genting Singapore said: "The disposals are in the best interest of the company's shareholders in the short and medium term. The disposals are also value-accretive in the short term for the company's shareholders. The group is comfortable in delivering healthy performance at Resorts World Sentosa. The group has narrated its shift to focus on different market segments and has been developing strategies to improve offerings to the affluent target markets. These strategies, including the group's brand repositioning and development of new facilities, will help it grow within its home base in the near term. Recent news reports from Japan are encouraging with regards to the advancement of the process to debate and pass the Integrated Resort Promotion Bill. The group is optimistic that this bill will be enacted in the near future. When this happens, significant resources will need to be devoted to position the group as a strong candidate for the bidding process. This opportunity is of significant value to the growth of the group."
Landing International currently owns and operates two gaming clubs, namely Les Ambassadeurs Club in London, United Kingdom and Landing Casino in Jeju.
Landing Casino is a distinguished gaming club located in the five-star Hyatt Regency Jeju Hotel in Jeju, Korea. It offers its customers an exquisitely decorated gaming floor and several themed gaming salons.
Landing confirmed: "The company has conditionally agreed to acquire and Algona has conditionally agreed to sell, the sale shares at a consideration of USD380,760,000, representing the entire issued share capital of Callisto, which, through its direct wholly owned subsidiary, HBL, owns 50 per cent of the issued share capital of Landing Jeju. Autumnglow is currently a 50 per cent indirectly owned associate of the Company and has been established by the Group and Genting Singapore for managing and operating the hotel establishment within the Jeju Project."
Resorts World Jeju will be one of South Korea's largest integrated resorts, spanning across a land area of approximately 2.5 million square metres. Slated to open progressively from 2017, RWJ will house Jeju's largest family theme park offering more than 20 rides and attractions in 7 different zones themed after myths and legends from all over the world; Jeju's largest adventure waterpark and one of Korea's most exciting themed retail and food complexes. Its premium hotels will have more than 2,000 rooms, boasting luxury villas, Jeju Island's first six-star hotel and a destination spa. The hotels are equipped with full meeting and conference facilities that are suitable for hosting regional and international meetings, incentives, conventions and events (MICE). In addition, there will be gaming entertainment; cultural facilities, leisure and entertainment amenities, as well as approximately 1,500 luxury serviced apartments and residential villas. The entire development is expected to be completed by 2019.