By
Phil
- 18 July 2023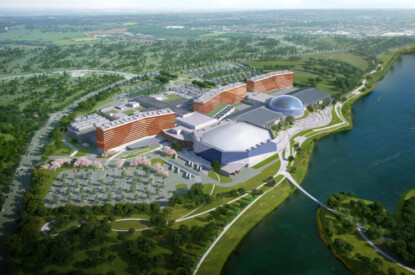 Cornerstone Restaurant Group, a long-time partner of Mohegan, which operates a portfolio of premier global integrated entertainment resorts, announced the forthcoming expansion to South Korea with the opening of a new Michael Jordan's Steak House, MJ23 Sports Bar & Grill as well as two new original concepts – Hi-Fi Chicken & Beer, and Brasserie 1783.
The new restaurants in South Korea will be part of Mohegan Inspire Entertainment Resort, an integrated resort boasting 1,275 hotel rooms, a 15,000-seat multipurpose arena, a foreigner-only casino, convention facilities, retail, an indoor waterpark, and an outdoor themed attraction. Opening in the fourth quarter of 2023, INSPIRE is the next major opening by Mohegan.
"This is a project a long time in the making and it's something we're so proud to be part of," said Cornerstone's President Joshua Zadikoff. "We've always had plans to make our concepts international. What better way to make a global impression than to bring Michael Jordan's Steak House and three other concepts to the premier new entertainment destination in Asia."
The new Michael Jordan's Steak House, which has been wildly successful in the United States, will bring the same high-quality dining experience to Seoul. Guests can expect the finest cuts of meat, exceptional service and an atmosphere that pays homage to the greatest basketball player of all time. The restaurant, designed by the renowned Korean firm Kesson, will take the Michael Jordan's Steak House experience to new heights with exquisite interiors and exclusive private dining opportunities.
"Mohegan has enjoyed such a remarkable and productive relationship with Cornerstone Restaurant Group and we're so thrilled about this new venture we're working on for Mohegan INSPIRE," said Ray Pineault, President & CEO of Mohegan. "Michael Jordan's Steak House and the MJ23 Sports Bar & Grill are two of our most popular restaurants at our flagship property, Mohegan Sun, in Connecticut, and to bring these two concepts to South Korea, along with brand-new concepts as well, is very exciting."
Culinary Director Craig Couper led the menu development at Michael Jordan's Steak House and will oversee the culinary program of the restaurant as well as MJ23 Sports Bar & Grill, an elevated sports bar and grill serving contemporary American cuisine, with a sport viewing experience that Michael Jordan himself can be proud of. Michael Jordan iconography and his most famous quotes fill the space along with the latest in TV technology.
Joining Michael Jordan's Steak House's and MJ23 Sports Bar & Grill at INSPIRE will be a new concept developed with CRG partner Chef Bill Kim. Hi-Fi Chicken & Beer will be a casual diner featuring Korean-style fried chicken paired with ice cold beer in a fun and laid-back atmosphere filled with classic stereo equipment and vinyl albums.
"We knew we had to build on our partnership with Mohegan after such tremendous success in Connecticut. We're thrilled to launch CRG Chef Partner Bill Kim's newest concept at INSPIRE. Chef Bill was born in South Korea and has always dreamed of bringing his culinary talents back home. We think people are going to love his creative takes on Korean comfort foods at Hi-Fi Chicken & Beer," said Zadikoff.
Cornerstone will launch another new concept at INSPIRE named Brasserie 1783, which will have its menus designed by the culinary duo of Kim and Couper. The restaurant will be a French-inspired all-day brasserie featuring a signature hot air balloon-shaped bar, a raw bar, a stylish patisserie and coffee bar, and a large outdoor patio. The first hot air balloon flight was in 1783 and the restaurant will honor the spirit of adventure as it serves travelers from around the world.
Cornerstone Restaurant Group's expansion to South Korea is just the latest step in its global growth strategy. With a portfolio of acclaimed restaurants across the United States, the company is committed to bringing its innovative dining concepts to new markets around the world.