By
Lewis
- 10 September 2020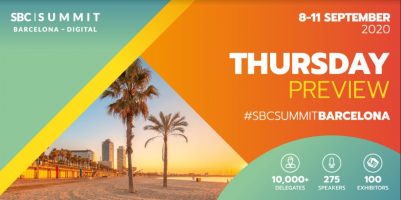 Affiliates, lotteries and the US market take centre stage on day three of SBC Summit Barcelona – Digital, with a line-up of senior executives ready to share their insights on the future direction of these areas of the betting and gaming industry.
Following on from the first two days of insights and discussions at the industry's largest ever virtual conference and exhibition, delegates attending on Thursday 10 September can look forward to three conference tracks.
The Marketing and Affiliation Track includes a Leaders Panel focused on the evolving relationship between affiliates and betting and gaming operators. Toby Bentall (CEO, Oddschecker Global Media), Simon Pilkington (CEO, KaFe Rocks), Christian De Cailleux (CEO, Skores), and Marcos Oliveira (Chief Affiliate Officer, Clever Advertising Group) are set to participate, with Lee-Ann Johnstone (CEO, AffiliateINSIDER) in the moderator's chair.
The track also features sessions on a number of topics crucial to driving business growth, such as social media, player retention, sports sponsorship, and alternatives to the traditional affiliate model.
Speakers ready to share their expertise with the audience include Neill Simpson (Brand Director, Mr Green), Eitan Gorodetsky (Acquisition Director, Betsson Group), Dan Towse (Head of Brand, Marathonbet), Yaroslav Stanev (Head of Marketing, Oddspedia), Chris Harrison (Industry Head – Finance Trading & Egaming, Google), and Thomas Ash (Sr. Client Partner – Sports Betting & Gaming, Twitter).
Completing the track is Parimatch's CMO Ivan Liashenko, who will deliver a presentation detailing how the company developed into a global brand.
The Lottery Daily Track, sponsored by GLMS, will take an in-depth look at a crucial part of the gambling ecosystem, addressing topics such as player protection and the role of lotteries now that many of them also offer betting and casino games. The speaker roster includes Jens Nielsen (Sportsbook Director, Danske Spil), Camilla Folladori (Head of Lotteries Concession Renewals, SISAL), Vincent Perrotin (Head of CSR, FDJ), Tay Boon Khai (Chief Risk & Compliance, Singapore Pools), and Thanos Rigas (Sports Team Director, OPAP).
As the business day gets underway in North America, so does the US Market content. It features four sessions addressing how brands can reach American bettors, the progress of state-by-state regulation, the potential investment gold rush, and the future of sports betting.
The panelists ready to analyse the next steps in the evolving US market include Greg Carlin (CEO, Rush Street Gaming), Todd Kobrin (CEO, Oddsium), Max Bichsel (VP of US Sales, Gambling.com Group), Bill Pascrell III (Partner, Princeton Public Affairs Group & Trustee, GVC Global Foundation), Daniel Politzer (VP, Equity Research. JP Morgan), and Richard Schwartz (President, Rush Street Interactive).
Outside the virtual conference rooms, KPMG and Pinnacle will be staging workshops on the benefits of automation and the prospects for esports betting in the US, respectively. There are also themed networking roundtables for the Asian, CIS, and LatAm markets, as well as a casino industry session and a gambling affiliate meet-up, all of which will provide an easy way to find and connect with fellow delegates with shared business interests.
Delegates who missed the opening two days will also be able to use the event platform's on-demand feature to catch up with the conference content they missed. The second day saw a focus on international markets, including the Australia – Pushing Back On Restrictions session, which examined whether online operators would be permitted to join retail bookmakers in offering in-play betting.
Jake Henson, COO of BetMakers Technology Group, suggested that a change in legislation would only be possible if professional sports lobbied for it, something that would only happen if TV ratings began to dip. He said: "As we know, with time-sensitive millennials, a two-hour field game is difficult to sit through, and they would like to be doing something else. In-play wagering could be a patch-up for that issue – something which the AFL and NRL are going to have to address at some point."
In the same session, Peter Cohen, Director of The Agenda Group, outlined why online casinos are unlikely to be legalised in Australia in the near future. He said: "The federal government isn't going to amend its Interactive Gambling Act to allow online casino games – largely because they won't get any of the revenue from lifting the ban. The tax revenue is directed towards the state, so there is no incentive for the federal government to have a fight with anti-gambling people to allow online casino games.
"I can't see it happening. I actually think that getting rid of the ban on in-play betting has a miniscule chance of happening – but lifting the ban on online casinos has no chance."