By
Phil
- 24 July 2023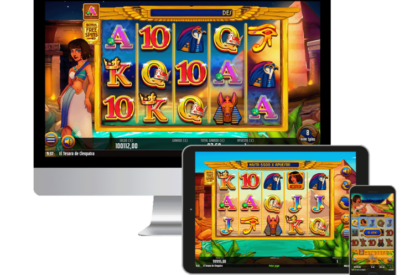 Online casino players can now enjoy Cleopatras Treasure, the new 5-reel slot game from MGA Games. An exciting and daring adventure that challenges players to locate the mythical sovereign's treasures.
Set in Ancient Egypt, the latest slot game from MGA Games presents its main character, one of the most important figures from that ancient time: Cleopatra, the queen of Egypt.
The hieroglyphics, sphinxes, and blue scarabs on the 5 reels hide great prizes in the land of pyramids overlooking the Nile. Cleopatra herself, the God Thoth and the Eyes of Anubis are some examples of the themed symbols found in Cleopatras Treasure.
A visually attractive and immersive experience, the game is highly entertaining and satisfying for players.
This new high volatility adventure from MGA Games includes Scatter bonus spins, offering players a truly extraordinary gaming experience. Additionally, users can access the Free Spins draw screen and earn a multiplier for each drop they get.
The slot game also includes two mini-games. After escaping the sandstorm, players can access the "Treasure" mini-game that hides valuable rewards behind sarcophagi and statues of Anubis. And the second mini-game features a special expanding symbol that randomly covers the reel to help players win more prizes.
MGA Games' partner online casino operators can now offer their customers this exciting new production that is sure to be a real hit.