By
Phil
- 1 March 2019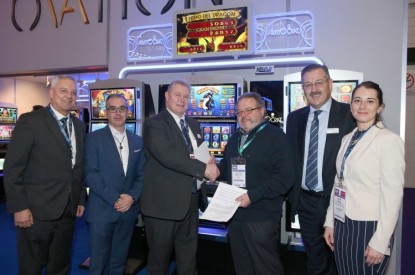 Spanish company Taquion has renewed an agreement with global gaming solutions provider Aristocrat Technologies for exclusive distribution rights of its new range of Salon games in the Spanish regions of Aragon and Navarre.
Having worked in partnership with Aristocrat for over seven years, the Zaragoza-based company confirmed its closer working relationship during the ICE Show in London.
Taquion Partner & CEO, Alberto Ripol, said: "Aristocrat games have a long history in Salons across Aragon, with considerable player recognition and loyalty. We have been impressed by the quantity and quality of new games displayed for the first time in London and look forward to working with Aristocrat to expand the footprint in our regions."
Sales Director for Aristocrat's non-casino business in EMEA, Alfonso Sánchez, said: "Taquion has been a great exponent for Aristocrat for several years now and we are naturally pleased that our partnership has been strengthened with a new contract."
Caption: José Muyo (Commercial Officer – Aristocrat Spain), Félix Sancho (Commercial Director – Taquion), James Boje (Managing Director – Aristocrat EMEA), Alberto Ripol (Partner & CEO – Taquion), Alfonso Sánchez (Sales Director, non-casino – Aristocrat EMEA), Marta García (Programme Manager – Aristocrat Spain).