By
Phil
- 30 June 2022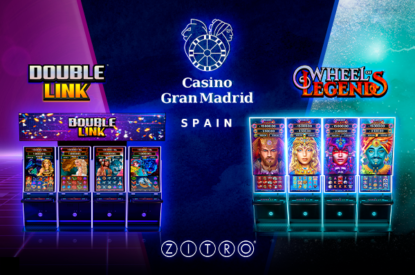 Zitro has brought to the renowned Casino Colón, of the Gran Madrid Group, its latest novelties of the GLARE Family among which are the new Double Link, and Wheel of Legends multi-game.
Featured on the exclusive Illusion Glare 43″ Ultra HD curved screen cabinet, Double Link includes a very special bonus round that literally doubles the bonus, offering players double the excitement and double the prizes. Wheel of Legends, on the other hand, featured on the premium Altius Glare, has an unparalleled graphic quality and a totally different game Dynamic.
Sergio Rupérez, Head of Product Retail-Online of Gran Madrid Group, said: "Zitro's wide variety of products allows us to renew our gaming offer with the latest in the market, as is the case of Double Link, which together with Wheel of Legends is having a great reception. Both multi-games, in their respective GLARE cabinet, have an unbeatable presentation."
Jaime Aníbal-Alvarez, Zitro's Director of Casinos España, stated that "it is a privilege to be able to offer Gran Madrid Group our latest products for the amuse of its customers. We are confident that this great bet offered by Casino Colón with Zitro products will result in benefits for all".