By
Phil
- 26 February 2015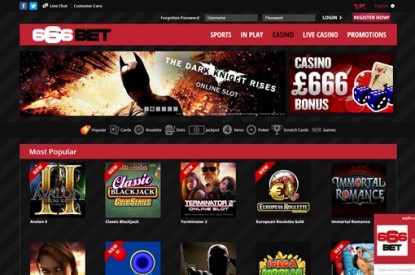 Sports wagering software and services specialist Metric Gaming and the fast-growing 666BET, which is quickly establishing itself as one of the major online betting operators in the UK, have announced a licensing agreement to incorporate Metric's SuperLive and Bettor Option products into 666BET's sportsbook offering.
SuperLive, Metric's flagship product, is optimised for mobile devices, deploys HTML5 and industry-leading push technology, and is powered by Metric's sophisticated sports analytics to usher in the next generation of in-play betting. With SuperLive, bettors can place propositional wagers on in-game events as the match unfolds – such as whether a player will score on an upcoming penalty shot, sink a birdie putt, make a free throw or convert on third down, all while their accounts are debited and credited in real time.
Bettor Option (patent pending), Metric's latest release from its development pipeline, offers bettors the option to double their pre-game wager, or switch sides, after watching the entire first half of a match unfold, all at the same odds that were available before the match began.
666BET, which made its debut for the World Cup in June of last year, has established several high-profile betting partnerships with English Premier League (EPL) clubs Leicester City and West Bromwich Albion as well as League One side Leyton Orient, and has maintained an aggressive marketing campaign that continues to fuel its rapid growth.
"666BET is an exciting new player in the massive UK betting market," said Metric's President & CEO, Peter Bertilsson. "We are pleased to be included in their sportsbook offering and look forward to accelerating 666BET's expansion with our SuperLive and Bettor Option products."
"This is a thrilling development for 666BET," said Neil Andrews, 666BET's Sportsbook & Brand Manager. "We are delighted to be partnering with Metric Gaming to offer our customers an extra and exciting betting dimension to our Sportsbook. We strive to be unique and different and the addition of SuperLive will help us achieve that."