By
Phil
- 5 April 2019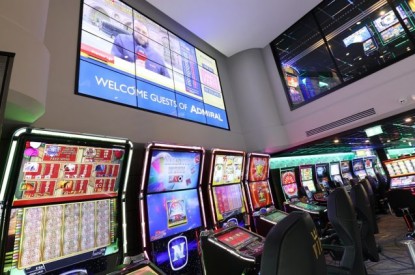 Launching its new flagship AGC with two floors of gaming and over 350 machines, Admiral marked its return to Piccadilly Gardens in Manchester after seven years with a VIP night for the industry to remember.
Admiral Manchester opened its doors in Piccadilly Gardens for the first time on 28 March following an industry guest VIP night to celebrate the occasion.
The Novomatic operator's new flagship AGC features group gaming product from Astra and Novomatic alongside significant machine investments with SG Gaming and Inspired.
As well as providing a premium gaming experience, Admiral Manchester is also well-equipped to entertain visitors with live sports and events via two large screens, including an iconic 16 panel high monitor in the front atrium.
All of these attractions were revealed for the first time on 27 March, when industry guests were invited to Admiral Manchester to join Novomatic in celebrating for the new launch.
Speaking about the VIP night and the importance of Admiral's latest opening, regional operations director James Sturgess said: "We're delighted to be able to introduce our new venue to the wider industry and the slots players in Manchester. This city has always been a key market for us and to offer it our new flagship venue is a fantastic achievement. Our in house projects team have done a fantastic job with the four month design, build and fit out – a culmination of their experience from our other refurbished stores to date. The investments in our new product plus extra touches like the large format screen, really take our offer to the next level and equip us with a modern AGC venue which is future proof."
Paul Hyman, Admiral's chief operating officer, added: "We'd like to thank all our guests from across the industry who joined us for the VIP launch. What a great way to kick off in our new venue and show how positive the industry is right now."
While Admiral Manchester is a brand new venue occupying the ground floor and mezzanine level of Wellington House, it sits approximately 200 yards from where Luxury Leisure originally operated as Nobles Amusements in Piccadilly Gardens. Due to renovations, however, Noble Amusements transitioned to the current Admiral site on Parker Street, where the operator has been trading successfully from since 2012. This venue will remain open temporarily before closing to allow for a major regeneration project that is intended to improve the overall aesthetic of the area.
Meanwhile, after three months of preparations, Admiral Manchester has enjoyed a strong start to its first week back at Piccadilly Gardens, garnering an excellent response from Mancunians to its offer of the best high-street gaming experience in town.