By
Phil
- 18 June 2014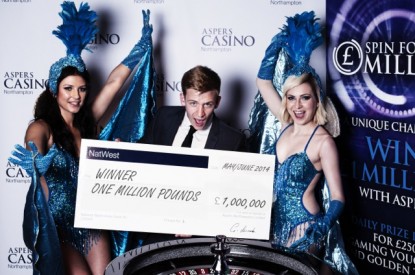 On Sunday June 15, The Casino MK, Home of the Big Win, gave five people the chance to become a millionaire as they made it through to the 'Spin for a Million' final to be held at Aspers Westfield, Stratford City on June 21.
The semi-final saw 129 'Spin for a Million' golden ticket holders and their guests arrive on the red carpet at the UK's second largest Super Casino, greeted by glamorous stilt-walkers, for a champagne and canapé reception at Clary's Bar & Grill at The Casino MK. Golden ticket holders were then invited to the exclusive semi-final draw in the casino's VIP area, where five lucky finalists were drawn. Each finalist then opened a 'Spin for a Million'box; winners Paula Kinge, Paul Brooks and Choi Li all walked away with £1,000 on the night, whilst Simon Scott scooped £2,000 and finalist Ahmed Bilal won the £5,000 cash jackpot.
The five finalists from The Casino MK have won an all-expenses paid trip to Aspers Westfield, Stratford City on 21 June to take part in Aspers' biggest ever cash giveaway, with a guaranteed £25,000 to be given away, as well as the chance for one person to win £1 Million.
On winning the £5,000 jackpot and making it through to the 'Spin for a Million' final, winner Ahmed Bilal said, "No words can express how I'm feeling right now! I'm so happy to have made it through to the final, and have enjoyed every minute of being a part of 'Spin for a Million'."
"It's surreal!" said finalist Choi Li. "Thank you to The Casino MK for this amazing opportunity!"
Nigel Hartland, General Manager at the Casino MK said: "The 'Spin for a Million' semi-final was a fantastic night and we're delighted to have five finalists win a share of £10,000, and be in with the chance of winning £1Million next Saturday. Hopefully our millionaire will be from Milton Keynes."