By
Phil
- 11 November 2013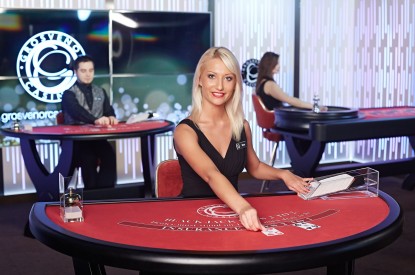 Evolution Gaming, a specialist in video-streamed Live Dealer gaming, has announced that is has launched a greatly extended and all-new dedicated Live Casino environment for Grosvenor Casinos.
The state of the art, dedicated environment, created at Evolution's Riga studios, went live on 4th November, with additional features under the Live Casino tab on the website –  www.grosvenorcasinos.com/LiveCasino.
The new environment instantly doubles the capacity of Grosvenor Casinos' online Live Casino offer, while also allowing for future expansion.  Customers can play at any of the four dedicated Grosvenor Casinos live tables – Live Roulette, Blackjack, Blackjack Gold and Baccarat – 24 hours a day. Players will enjoy the exceptional Grosvenor Casinos experience every time they play and interact with the dedicated Grosvenor Casinos team that includes native speaking English dealers.
All Grosvenor Live Casino tables are currently available on PC, Mac and iPad, with Live Roulette also available on iPhone and Android tablets and smartphones. Grosvenor's Blackjack tables, meanwhile, are set to be released on Android tablets in late November.
Steve Salmon, Director of Digital Innovation at Grosvenor Casinos, said: "This is a fantastic new environment which brings our retail experience to life in the digital arena. With our heritage, experience and expertise in Table Gaming, it is a great opportunity to take these skills truly cross channel and provide our customers with the most authentic live casino experience. Our customers will be able to play across all our distribution channels sharing a joined up experience. Our environment looks absolutely stunning with dynamic backdrops created using large plasma screens that can display innovative and subtle lighting effects, branding and messaging."
Salmon continued: "This gives us a massive crossover potential across all our channels of distribution, for example, with the opportunity for live promotions hosted in parallel in-club and online, and for a single loyalty system rewarding both in-club and online play."
Svante Liljevall, COO at Evolution Gaming, added: "Working closely with Grosvenor Casinos we have not only created the excitement of its land-based casinos online, we have also created an innovative interconnection between the clubs and online. In particular, the use of native speaking English dealers in Grosvenor's new Live Casino has strong appeal for customers who value the rich rapport that can build up between dealers and their regular players."