By
Phil
- 1 April 2019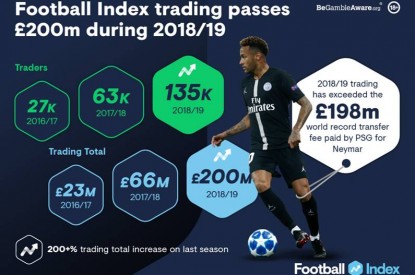 Trading on the world's first football stock market, Football Index, where users buy, sell and build a portfolio of real-life players, has this season exceeded the £198m (€222m) world record transfer fee paid by Paris Saint-Germain for Neymar.
The unique financial and football hybrid has turned over more than £200m in trades since the current season's market opened on Saturday, 10 August, 2018.
The high-water mark already represents more than a 200 per cent increase on the 2017/18 season figures of £66.29m
And with two months of the season remaining, Football Index is on course to register a ten-fold boost on its 2016/17 trading, which amounted to £23.34m
This is reflected in the growth of traders, which has leapt from 63,278, to a current total of more than 135,000.
The disruptive platform gives traders the opportunity to buy and sell shares in professional footballers with real money, offering an exciting alternative to traditional sports betting.
Operating with all the characteristics of a stock market, traders buy units of footballers (known as 'Futures'), building their football portfolios and trying to sell at a profit.
In addition, Football Index's daily Buzz Chart monitors the UK media to determine trending footballers each day, with dividends paid out per future held. Since August 2018, Football Index has paid out more than £2m in dividends.
Adam Cole, founder and CEO of Football Index, said: "This is proving to be a vintage season for Football Index. Passing £200m in trades so far is a significant milestone and, with two months of the campaign remaining, there's still plenty of buying and selling to be done.
"The huge growth in traders and trading on the platform makes it clear that our offering is gaining serious traction with punters fed up with betting against bookmakers. We're also attracting a whole new audience that aren't interested in traditional betting in the first place."