By
Phil
- 8 August 2016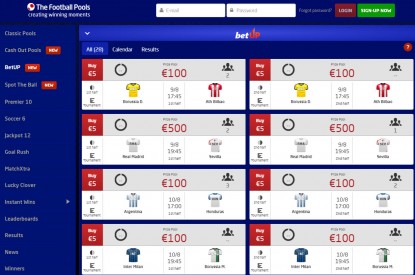 The Football Pools, owned by Sportech, is to launch in-play betting for the first time in its history through a new partnership with Commologic.
Commologic will launch its in-play pool betting product BetUP in time for the start of the 2016-17 Premier League season, which begins August 13.
BetUP will cover all major UK games, as well as leading European competitions such as the UEFA Champions League and Europa League, via desktop and mobile web, with an dedicated app to follow. It is described as an acquisition tool for casual sports fans that offers a second screen, in-game experience which gives users a greater understanding of in-play betting.
The product puts players into pools to offer big jackpots for customers who can successfully predict a series of in-play propositions, such as next corner or next goal, during a live sporting event.
Conleth Byrne, Managing Director of the Football Pools, said: "The Football Pools is always looking to innovate and adding in-play betting is a natural evolution for us. BetUp brings an exciting, engaging, and live game that we are sure this will prove popular with our 200,000+ weekly customers."
Commologic Managing Director Tamir Berler added: "Partnering with such an iconic brand is exciting for Commologic and we are thrilled to be expanding the BetUp network. BetUp will engage the Football Pools audience with live moments of entertainment for the first time."