By
Lewis
- 19 November 2014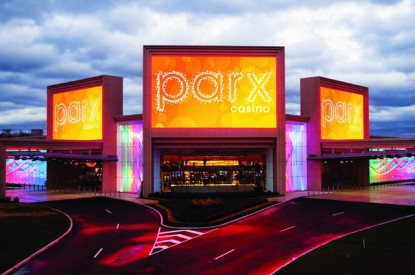 GameAccount Network has announced the signing of a definitive agreement with Parx Casino to launch a Simulated Gaming online experience for new customers and existing patrons in advance of potential regulation of Internet gaming in Pennsylvania, details of which were disclosed in July this year.
Parx Casino is owned by Greenwood Gaming & Entertainment, Inc and comprises a major thoroughbred racetrack and casino property in Bensalem, Pennsylvania. It is expected that GameAccount Network and Parx Casino will launch a Simulated Gaming website in December 2014. The system will allow for all forms of Internet gaming with selected third party remote gaming servers to be integrated into the GameSTACK Internet Gaming System and managed via GameAccount Network's iSight Back Office.
Simulated Gaming is the innovative Internet gaming service designed by GameAccount Network PLC specifically for land-based casinos in advance of prospective regulation. Simulated Gaming offers a gaming-as-entertainment website enabled with unique and patented monetisation features and a compelling Internet gaming content portfolio of over 100 casino slot, table and skill-based games including poker, backgammon, gin rummy, poker dice and blackjack tournaments.
Dermot Smurfit, CEO of GameAccount Network commented: "In 2014, consistent with the objectives set out at the time of our 2013 public offering, we proved our capability to deliver both Simulated Gaming and regulated real money Internet gaming in the United States. In 2015 we anticipate scaling Parx's Simulated Gaming business through significant online marketing activities designed to acquire players online and drive them on-property to Parx Casino in Bensalem, Pennsylvania. We are excited by the opportunity presented by Simulated Gaming, the underlying strength of our regulation-ready Internet Gaming System, the promotional capabilities of our back office and relevant appeal of our widening gaming portfolio. We are delighted to have been chosen as their exclusive iGaming platform provider by one of the leading management teams in the United States' casino Industry."
Launched in the US by GameAccount Network in January 2014, Simulated Gaming has been proven to monetise Internet traffic to existing websites operated by land-based US casinos with average revenue per daily active user (ARPDAU) of $2.75, as against an original estimate of $0.60, greatly exceeding equivalent numbers reported by Social Casino operators on Facebook.
John Dixon, CTO of Greenwood Entertainment & Racing, Inc commented: "GameAccount has demonstrated its Regulated Gaming capability in New Jersey and the merits of Simulated Gaming™ when integrated with a casino management system. By deploying their system on-property Parx Casino will have the opportunity to launch Simulated Gaming™ nationwide this Holiday season, subject to regulatory approval of the PGCB, on-property real money mobile gaming in 2015 and be well prepared in the event regulation of real money Internet gaming emerges in the State of Pennsylvania." Parx Casino is the leading casino in Pennsylvania operating over 3,200 machine slots and 150 tables.