By
Phil
- 30 November 2018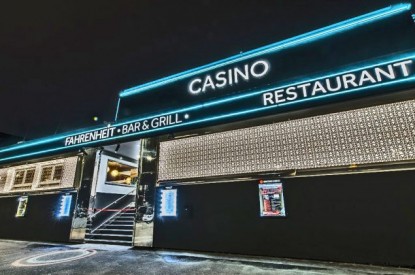 Genting UK has completed its renovations for its Genting Casino Westcliff, located on the Western Esplanade in Southend-on-Sea, in the South of England.
The refurbishment has brought a brand-new long bar with state-of-the-art flat screen televisions throughout, including one 98ins. LED screen. The bar will show live sports events throughout the year including top Premier League football and boxing matches.
A gold theme is now prominent throughout the area and the long bar format has been designed to increase the capacity and provide more service stations, thereby reducing delays at the bar and providing a better experience for customers. Additional private booths have also been installed, complete with mobile phone charging points for the convenience of Westcliffe's customers.
Other improvements to the casino include modernised toilet facilities, as well as new carpeting throughout the venue. Maintenance to the building's exterior has also taken place, with new signage and neon lighting installed to a high standard. There have also been extensive improvements to the back of house areas in the casino.
Genting Casino Westcliff celebrated the opening with a launch night that included a performance from the iconic British reggae duo Aswad. The casino saw over 120 customers in the Fahrenheit Restaurant attend on the night and were treated to a superb entertainment, dining and gaming.
Simon Woodford, General Manager at Genting Casino Westcliff said: "We are absolutely thrilled to be able to unveil our brand-new refurbishment. We are incredibly proud of the new space, particularly the new long bar area, which will provide a much better in-casino experience for guests. We are looking forward to cementing our reputation as one of the very best places in the city for food, drink, gaming and live sports entertainment."