By
Phil
- 18 November 2021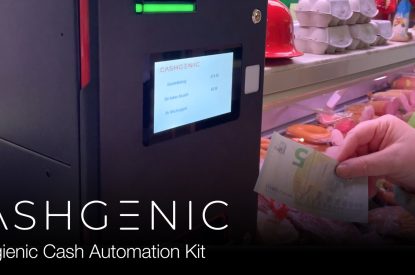 CashGenic, the hygienic cash automation from ITL was first launched in May 2020 during the height of the covid-19
pandemic to enable customers to pay with cash both safely and hygienically. Since it was first launched, ITL have
secured a number of distribution suppliers in the UK and throughout Europe, who collectively have installed several hundred units in numerous countries including the UK, Germany, Spain, Belgium and Austria.

Commented on this achievement, Thorsten Labusch, VP of Sales & Business Development said: "We are delighted
with the success of CashGenic which was introduced during the height of the COVID pandemic as a solution for
those customers wanting to pay by cash safely during a time when coins and banknotes were being incorrectly
portrayed as high risk in terms of transmission. Although this was proven inaccurate, the COVID crisis highlighted
the need for businesses to continue to accept cash while maintaining social distancing. The technology has been
developed by us and the complete system solution is supplied and installed direct from our approved partners
using their own hardware."

"Our partners have developed a full solution that includes our intelligent banknote recycler and advanced coin
recycler. CashGenic is an affordable solution with easy installation and no software integration involved. A compact,
all-in-one counter-top device it ensures easy customer access, with pay-in and pay-out managed by staff via a
mobile tablet device. One year on, and we have over nine strategic partners spread throughout Europe who together
have now installed over 400 units, across 22 different countries and this continues to grow."

CashGenic can be used in various settings within the retail sector to automate the counting and handling of cash,
therefore saving time and generating greater efficiencies for businesses, as well as helping organisations eliminate
shrinkage and accounting errors.

Mr. Labusch continued: "Our partners have installed the system at various retail venues including butchers' shops, toy
shops and fish and chip shops, amongst others. One of our partners, Perfect Money provider of innovative
payment solutions based in south Germany are proudly building the machines (renamed Vicky) in Germany. This
high-performance, smart cash dispenser has space-saving dimensions so fits onto any counter and Perfect Money
customers have reported that several businesses have seen an uplift in cash takings of around 10%."

Andy Bullock, Senior Business Development Manager ITL commented, "CC Dynamic, our first CashGenic UK
supplier, have been rolling out the system (branded as £XCHEKKA) with Maggi Electronics completing the installs.

Commenting on a successful installation at the Café Royal in Scotland, owner and National Federation of Fish Friers
(NFFF) member John Pagani said: "Overall, it's been a tremendous success. The £XCHEKKA system is affordable, so much so, we ordered two, one for our indoor café and the other for our take-away. Staff love it, they no longer
have to count change and can concentrate on serving the customer to provide excellent customer service rather
than worrying about change and having to wash their hands after touching the money and sanitising again."