By
Phil
- 7 June 2014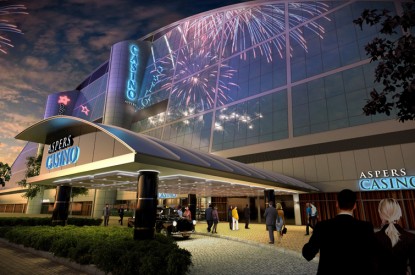 Six lucky gamers enjoyed a very successful end to the month as they scooped a combined total of £74,066.36 at The Casino MK.
FromMay 26 to June 1, The Casino MK in Milton Keynes, experienced its highest number of jackpot winners in one week to date, including a double jackpot win on 1 June.
The first and biggest jackpot winner from Dunstable on May 26, who can only be referred to as Mr R, won £18,195 on the super casino's Novomatic Gaminator slot machine, on a stake of just 50p.
On 30 May, jackpot winner Maria Heath took home £15,590.97, again on the Novomatic Gaminator, with another winner scooping more than £12,500 just one day later. Other winners, who cannot be named, claimed winnings of £15,562, £8,172 and £4,000.
"It is always hugely exciting when someone wins big at The Casino MK, but for six gamers to win in just seven days is fantastic" said General Manager, Nigel Hartland. "What a brilliant end to the long bank holiday weekend, and a month of big wins…one I'm sure our winners won't forget in a hurry."
The Casino MK has seen 18 jackpot winners since January, with eight lucky winners pocketing almost £100,000 between them this month. We're looking forward to many more big wins in June, particularly with the 'Spin for a Million' game being run across all four Aspers Casinos."
To enter, customers use their Aspire Reward card to earn tickets for a draw and a chance to win a place at the 'Spin for a Million' semi-final on Sunday 15 June.
At the semi-finals five people will be picked to go through to the Grand Final and the chance to pick a box – one containing £5,000 cash, another with £2,000 and the three remaining with £1,000 each. The 20 finalists will be invited to Aspers Westfield, Stratford City on Saturday 21 June for the chance to win £1 million.
Mr. Hartland said: "We are very excited to be giving away such an unprecedented amount of money; there is a guaranteed £25,000 cash prize that one of the finalists will win plus the chance to spin for £1m."