By
Phil
- 14 December 2015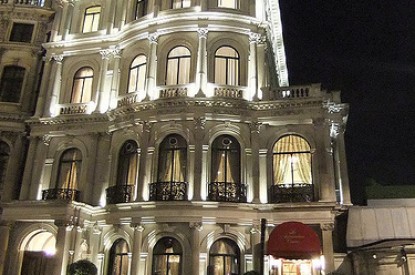 Hong Kong-listed Landing International Development is about to become a player on the London casino market having agreed a £137m deal to buy Les Ambassadeurs from current owner from Twinwood.
Landing International will be going head to head in the English capital with Genting, a company who it has partnered with to develop a casino on Jeju Island in South Korea. The pair currently own the casino at the Hyatt Regency Jeju Hotel.
With 45 gaming tables, Ambassadeurs Club is one of the most exclusive and distinguished gambling clubs in the UK located in the very heart of London's upscale Mayfair district at Nos. 5 and 6 Hamilton Place, which is a fine historic and spacious building with a number of stylish private gaming rooms, a notable main staircase and an elegant library.
Yang Zhihui, Chairman of Landing International, said: "The acquisition of Les Ambassadeurs Club symbolises Landing International's business breakthrough beyond Asia, striving to gain global presence in the industry. One of the Group's business objectives is to establish its own branding and presence in the gaming industry worldwide. Given that the business of the Jeju Casino is self-sustained and operated by a team of professional and experienced management, the Board considers now the right timing to expand and diversify its gaming operations into other markets by investing in a casino with well-defined and recognized brand name such as Les Ambassadeurs Club."
The Club can trace its history back to as early as the 19th century and was re-opened in its present form in 1991. According to the information available on the website of Les Ambassadeurs Club, since its re-opening, it has once again established itself as a major landmark in the architectural heritage and social life of the Mayfair and London scene, and as one of the most exclusive and sought after casino memberships. It has long been a gathering place for prominent clientele from London and from around the world. The Club has an international customer base who are mainly ultra-high net worth individual customers. In recent years, emphasis has been put in expanding its Asian customer base to complement its more traditional strength with European and Middle Eastern customers.
There are currently 27 casinos operating in London, six of them have traditionally been regarding as being 'high end', including Les Ambassadeurs Club. The casino business in London is physically highly concentrated with all the main Mayfair casinos being located within a few hundred yards of each other close to Hyde Park Corner in the south west part of Mayfair. Les Ambassadeurs Club occupies a prime position in this location and situates inside the largest and most flexible building, making it a unique and exclusive casino at the district. In recent years, it has grown to be one of the leading casinos among those high end casinos in the UK. According to the information provided by the seller, for the 12 months ended 31 December 2014, the Club had a market share of approximately 36 per cent of the high end gaming market in terms of casino drop and approximately 27 per cent in terms of attendance.
Mr. Yang Zhihui added: "The market position of Les Ambassadeurs Club has been built on its long history of two centuries, substantial and loyal customer base, prime location and its experienced management and staff. It has long been a gathering place for celebrities and social elites. The success of Les Ambassadeurs Club in Europe and the Middle East markets makes it one of the leading high-end casinos. It has been developing more actively in the Asian market in recent years. We believe the acquisition of the Club represents a unique and good investment opportunity that allows the company to step up its investment and presence in the gaming industry and to enhance the future earning capability and potential of the Group."
Gaming revenue in the first 10 months of 2015 was nearly £16.44 whilst for the whole year previous it was £104.88m due to a 'result of a few substantial losses by long term players in July and August 2014.'