By
Phil
- 3 July 2019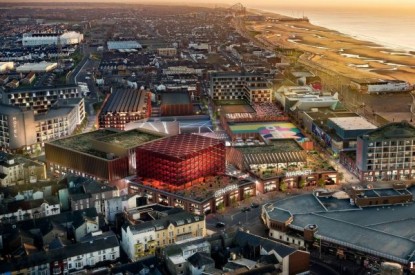 A move to breathe new life into ditched plans to bring a Las Vegas-style super casino to Blackpool has been put into motion by a local MP keen to revive the seaside town's fortunes.
Jake Berry, MP for Rossendale and Darwen, said one super casino could provide a 'once in a generation' opportunity to redevelop the seaside town. Original plans presented by Leisure Parcs for up to eight casinos in Blackpool were scaled back to one before being beaten in a Casino Advisory Panel recommendation by Manchester before th whole super casino debacle was kicked into touch by the House of Lords in 2007.
Mr Berry said: "It is early days but I think this is a prize worth reaching for. So far I've had a discussion with the leader of Blackpool Council and I have been speaking to the council to see if it is possible to unbung the legislation which still remains on the statute books. But it must be backed by a social welfare fund to reinvest in improving the life chances of the poorest people."
Councillor Simon Blackburn, Leader of Blackpool Council, added: "We are focused on delivering the £300m Blackpool Central leisure scheme that we unveiled to the world a few months ago. If the Government feels that issuing a super casino licence may form a small part of this deal, we would be happy to talk to potential investors and operators."
The £300m leisure-led development referred to by Mr. Blackburn is being developed at the town's Central Station site with attractions including the UK's first flying theatre, a virtual reality entertainment zone, an indoor family entertainment centre, and a multimedia exhibition space, as well as restaurants, a food hall, and an 1,000-space multi-storey car park. A new 150-bed hotel is also planned. Whilst some are keen to see a super casino added to Blackpool's overall mix, council opposition leader Tony Williams remains sceptical.
"One of the issues would be whether or not a super casino is still the exciting project it was 10 years ago," he said. "Gambling has now become so much an online activity. While I welcome any investment into the town I actually think this may not have legs."
Caption: The £300m Blackpool Central leisure scheme