By
Phil
- 8 June 2015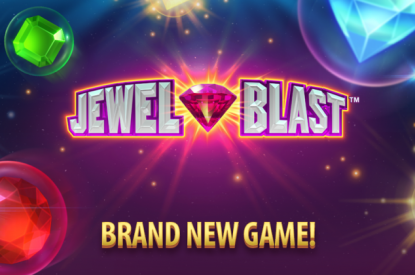 Social games developer Plumbee has added an explosive new game to its award-winning Mirrorball Slots social casino range- Jewel Blast.
Built by Quickspin, it's a 5-reel, 25 payline slot, available to play now on the Mirrorball Slots App on Facebook. It can also be unlocked at level 40 on Android and will be coming to iOS very soon.
Jewel Blast promises Mirrorball Slots fans an array of compelling new features. For example, two or more "Bonus Wild" symbols will trigger the Blast Bonus response, which sees the Bonus Wild symbols explode, taking out all surrounding symbols with them, and triggering more wins. Meanwhile, re-spins will continue to last for as long as there are Bonus Wild symbols on screen. Once they have all been used the re-spin feature is completed.
London-based Plumbee's ambition is to "change the way technology fuels entertainment" by creating high-quality games that aim to "bring social casino to the masses." Mirrorball Slots is a selection of free-to-play story-led video slots with fairytale themes and a huge range of in-game features. To date, the Mirrorball Slots app has been downloaded over 10 million times across all platforms.
"We're thrilled to be able to contribute to the overwhelming success of Mirrorball Slots through our strong relationship with Plumbee," said Mats Westerlund at Quickspin. "With Jewel Blast as with all Mirrorball Slots games, the emphasis is on great graphics and playability. We feel this is a worthy addition to what is already an extremely strong range of games."
"We work hard to ensure that we're constantly updating Mirrorball Slots with fresh and exciting new games," said Plumbee's Slots Producer, Mark Claxton. "To us, social casino is about pure entertainment, and that requires constant and compelling innovation. We're convinced that fans of Mirrorball Slots will love our new addition to the range and can look forward to more exciting new games to follow."
Mirrorball Slots players will also be excited to know that we have recently added 2 of our popular Facebook games to Android. The Epic Journey- unlocked at Level 9 and Sevens High, unlocked at Level 14.