By
Phil
- 2 December 2019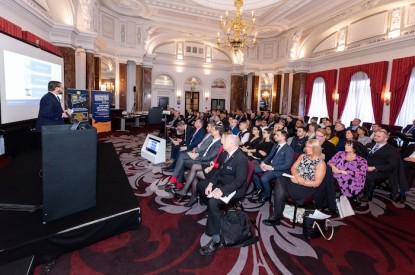 Praesepe made history in November when all of the company's 157 Venue Managers encompassing both the Merkur Cashino and Beacon Bingo brands attended conferences held in Birmingham and London.
Representing the first occasion that Praesepe has brought together all of its customer facing managers, attendees received briefings from the senior management team covering Business Development Strategy, Marketing, Servicing, Finance, Operations and Compliance, Product, Learning and Development and HR.
Addressing the meetings, Chief Operating Officer, Mark Schertle, took the opportunity to underline the sheer size of Gauselmann's investment in the UK and the faith the company has in the industry. Confirming what will be a £45m investment in the core business, he said: "This level of investment will ensure that all of our venues over the next few years will be modernised to become the 'go to' place for premium low stake gaming experiences on the High Street. In terms of our machine strategy, there has also been a significant increase in investment into the products on offer across the Merkur Cashino and Beacon Bingo estate encompassing the Blueprint Aurora and Alphastar through to the Equinox cabinets."
Another pillar of Gauselmann's strategic vision relates to the key discipline of Customer Service. Mark Schertle explained: "As the environments our customers play in improve we have upgraded the uniform, coffee machines, crockery and seating. By significantly strengthening our learning and development department, under Lynn Lockley, we will be ensuring the consistency of high standards are achieved across the UK."
Reflecting on the success of both conferences, Mark Schertle said: "As our venue managers are key to the success of the business we felt it was important that the senior management team had the opportunity to present the strategic direction of the business having completed their own departmental strategic reviews. By doing this face-to-face we were able to explain our thinking and gain really valuable feedback from the team. It was a hugely worthwhile initiative and the calibre of our people aligned to our progressive business development strategy confirms the fact that Praesepe has a very bright future."
Speakers at the Praesepe conferences included: Mark Schertle (COO): Börris Lüngen (CFO); Egemen Coskun (Head of Controlling); Steve Ambrose (Operations Director); Andy Tipple (Head of Product); Nigel Davis (Head of Machines); Jakub Klich (Head of Facilities); Vicky Grier (Head of HR); Lynn Lockley (Head of Learning and Development); Simon Coombes (Head of Marketing) and Chris Leather (Technical Director).
Caption: COO Mark Schertle addresses the Praesepe company conference