By
Lewis
- 8 April 2020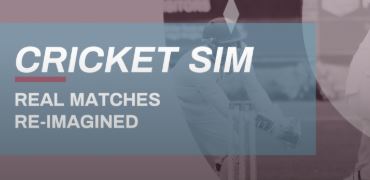 RPM Gaming has launched CricketSim, a new simulated cricket product for operators and their players struggling to find realistic, engaging alternatives during the sporting shutdown.
The offering fuses the latest algorithms with a database of real-world cricket stats to create the most authentic and accurate representation of live-traded cricket available. The sport's favourite formats, including Test, ODI and T20, are all featured, while every match is based on actual teams and players. Operators can then press these games into the service of varying schedules and timeframes across a glaring sportsbook void.
Partners now can offer these API data solutions – designed for pricing precision, comprehensive coverage and ease of integration – both pre-game and in-game.
The virtual product comes into its own in the in-play domain, where a number of short-form betting opportunities, for example over-by-over runs and next man out, coupled to ball-by-ball text commentary and live scoreboards, help recreate the feel and excitement of engaging with a real cricket match, without the onerous demands of risk management.
CricketSim's statistical modelling drives a realistic-yet-random ball-by-ball betting experience and is the first virtual offering to market from RPM Data, the pricing and data-feeds wing of RPM Gaming.
Richard Thorp, Director of RPM Gaming, commented: "As most operators pivot their attentions to developing vertical-spread during these unparalleled times, virtual sports are emerging as a go-to product for plugging the gaps after this live sports suspension which has followed the outbreak of COVID-19.
"Historically, virtuals have already surprised many with their ability to prize double-digit market share away from real sports betting. So, this trend will naturally extend in the current climate where their convenience is unmatched. In-play was the missing piece in that virtual jigsaw, but now CricketSim can fill the void with accurate in-play odds and innovative content that affords fans the chance to still enjoy their favourite sport in a familiar live betting environment.
"RPM Data was set up to provide zero-latency cricket trading feeds on the biggest range of matches and markets to serve the voracious appetite for live cricket betting across the planet. While we can't wait to roll out this unique feed when the real cricket action resumes, CricketSim was a logical stepping-stone product that we could create in the meantime for all our interested partners. It showcases our precise pricing ball-by-ball, and elevates in the in-play UX on virtuals too."