By
Lewis
- 13 October 2020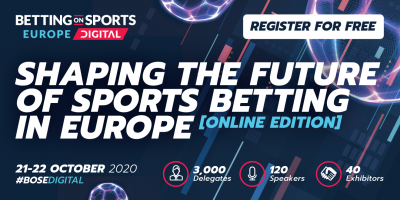 The Betting on Sports Europe – Digital conference and exhibition will feature senior executives and specialists with Betsson, Danske Spil, FIFA, GVC, Kaizen Gaming, Kindred Group, Pinnacle, and Superbet among those set to take part.
The agenda for the event on 21 – 22 October tackles the many challenges faced by sports betting operators in Europe's established regulated markets. The content will also examine emerging opportunities created by the latest technology and by planned licensing regimes in territories previously only served by monopolies or offshore operators.
A speaker line-up of 120 experts has been assembled to share their experience of and ideas for key issues such as improving governance, how to work within the tighter restrictions being introduced in some markets, enhancing player safety provisions, the evolution of the modern trading room, and product innovation.
The roster includes numerous operator and supplier CEOs ready to address the biggest issues. They include Betsson's Jesper Svensson, Danske Spil's Niels Erik Folmann, Pinnacle's Paris Smith, Aspire Global's Tsachi Maimon, Microgame's Marco Castaldo, Betaland's Carmelo Mazza, Altenar's Stanislav Silin, Luckbox's Quentin Martin, W2 Global Data's Warren Russell, and William Woodhams of Fitzdares.
They will be joined by a host of specialists from major operators, who will deliver insights on topics such as social responsibility, innovation in sports betting, and football trading. Speakers include Daniela Johansson (Chief Responsibility Officer & Deputy CEO, PAF), Michal Han¡k (Group Chief Sportsbook Officer, Fortuna Entertainment Group), Kostas Diorelis (Head of Sportsbook Proposition, Kaizen Gaming), Jamie Mckittrick (Group Head of Commercial, GVC), David Pilgrim (Senior Product Manager – Trading, Sky Betting & Gaming), Endre Nesset (Director of Sports, CoolBet), Sandhya Singh (Head of Risk & Fraud, Payment & Customer Service, Napoleon Sports & Casino), and Thomas Vermeulen (Affiliate & Internationalisation Manager, Smarkets)
How to design and deliver effective marketing strategies as governments impose new limits on gambling advertising is one of the key focuses of Betting on Sports Europe – Digital, and the line-up boasts vast experience in this area. Speakers include Vedran Karaman (Global Director of Performance Marketing, Superbet), Neil Banbury (General Manager – UK, Kindred Group), Petros Troullinos (Head of Marketing Operations, Kaizen Gaming), Benjamin Cronin (Head of Marketing, Pinnacle), Eitan Gorodetsky (Acquisition Director, Betsson Group), and Martin Beranek (General Manager – Germany/Austria, Kindred Group).
Delegates can also look forward to insights on the latest developments in sports integrity, as well as to learning about the opportunities created by the growing popularity of esports, with input from speakers such as Ennio Bovolenta (Head of Integrity, FIFA), Gilles Maillet (Director of Sports Integrity, LFDJ), David Lampitt (Managing Director, Sports Partnerships, Sportradar), Oliver Lamb (Head Sportsbook Controller, Kambi), Julian Tan (Head of Digital Business Initiatives & Esports, Formula 1), and Adrian Figallo (Marketing Director, World Pro Racing).
Rasmus Sojmark, CEO & Founder of event organiser SBC, said: "Betting on Sports Europe – Digital will be a forum for the industry to debate the threats it faces as it heads into what promise to be challenging conditions in 2021, and to develop ideas that will help to shape a sustainable future for the industry.
"To do that effectively requires significant expertise and our speaker line-up certainly has that, with many of the brightest and most innovative executives in the world of sports betting ready to share their insights on tackling major problems and ideas about the sector's greatest emerging opportunities."