By
Phil
- 4 April 2016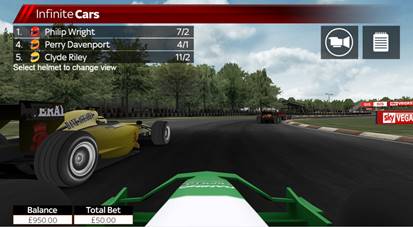 Following the successful launch in December with Sky Vegas, leading multi-channel supplier SIS has introduced a new generation of on-demand racing games in partnership with Core Gaming that, for the first time, allow customers to view events from a 'ride on' camera angle.
The trail-blazing feature is one of a host of updates the company has added to its second generation suite of Infinite Racing games, which are now live on the Sky Vegas website.
The latest games portfolio now includes motorcycling and motor racing titles, in addition to horse racing, greyhounds, cycling and novelty versions. There are now enhanced graphics and, for the first time, a choice of camera angles, to make the games a truly engaging experience for players.
Players are able to choose from three camera views, including a TV broadcast angle, an overhead drone view, and a 'ride on' view – a first for virtuals – which puts them right at the heart of the action for their chosen rider in motorcycling or driver in motor racing games.
SIS has also added a full screen option, making it easier for players to view and enjoy the on-demand racing games more clearly.
Marc Thomas, Head of Product for SIS, said: "SIS introduced a new dimension to virtual racing games late last year, with the launch of our on-demand gaming suite – Infinite Racing, and these latest updates take our offering to the next level.
"In a world of tech-savvy, next generation customers, who are familiar with console gaming, these camera angles will provide a far more immersive and engaging user experience.
"For operators, the real world gaming appeal of these titles ensures that players play for longer, and due to the on-demand nature of the games, there's six times more betting opportunities than traditional virtuals."
Bob Parker, Head of Casino for Sky Vegas, said "We are very excited to be the launch partner for the next generation of SIS's Infinite Racing games. They have already proved successful on our site and these innovative new features are sure to engage and excite our customers."
SIS's portfolio of on-demand horseracing, greyhounds, cycling, motor racing, motorcycling and novelty interactive games are a market first as they enable users to play anytime, anywhere, rather than be restricted to scheduled virtual races.
The games offer simple fixed odds bets, as well as forecast and tricast wagers using the unique Forecast Sliders, which gives clear odds on all available combinations.
The HTML5 browser-based games are available across most mobile, tablet and PC devices, including Apple and Android.