By
Phil
- 18 December 2015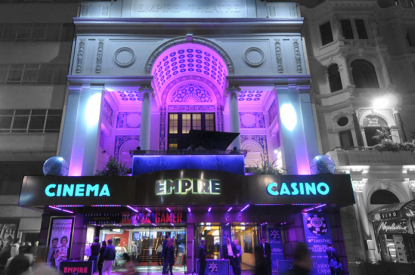 The UK Gambling Commission has criticised Caesars Entertainment for money laundering compliance failures at two of its London casinos.
Safeguards to ensure against money laundering were reportedly lax at Caesar's Empire Casino in Leicester Square and the Playboy Club in the West End and failed to comply with British financial laws.
The Commission highlighted breaches in due diligence with regard to calculating customer risk, as well as monitoring their playing habits.
The UKGC said: "The Commission has determined that there were significant weaknesses in the way Caesars managed risk with regard to money laundering," said the UKGC and considers that this case provides valuable learning for operators, who should in light of these matters consider reviewing their legal obligations regarding the prevention of money laundering."
"We examined AML controls used at two casinos owned and operated by Caesars: the Playboy Club London and the London Clubs LSQ," it added. "The Commission considers that, at both of these premises, the processes and procedures used to manage the risk of money laundering did not comply with the requirements of the MLRs, nor did they satisfy the duty to comply with the licensing objective to keep crime out of gambling. Specifically the Commission found that Caesars failed to appropriately assess customer risk, demonstrate appropriate levels of ongoing monitoring, undertake appropriately rigorous due diligence checks, instead over-relying on negative information, such as no trace results from third party and open source information, ensure that decision-making records relating to high risk customers such as politically exposed persons (PEP) were complete, obtain adequate information with regard to customers' source of funds or source of wealth, ensure that customer due diligence (CDD) and enhanced due diligence (EDD) records, and the policies behind those records, were sufficiently comprehensive to form an effective money laundering control system or undertake appropriate due diligence checks on customers of other overseas' Caesars Group companies."
Caesars has agreed to pay £845,000 towards socially responsible causes, and must immediately address the problems highlighted by the Commission.
The Commission added: "An independent external provider will review Caesars' AML policies and processes. This will be done at Caesars' expense, within an agreed timeframe, and will be shared in its entirety with the Commission."
Nick Tofiluk, Executive Director of the Gambling Commission, said: "We hope the industry will learn the lessons from this case," said. "It is their duty to put processes and policies in place to prevent money-laundering. If operators don't put [those] in place then they risk losing their operating license."
The news comes just three months after Caesars was fined $9m by financial regulators in the US following a 2012 investigation by the Financial Crimes Enforcement Network (FinCEN), which said Caesars had 'allowed wealthy patrons to gamble anonymously' at its flagship Caesars Palace Las Vegas Strip property.
Caesars had claimed it had addressed these problems making 'substantial improvements to every aspect of its Bank Secrecy Act/anti-money laundering compliance program.'
"The entire Caesars organisation is committed to full compliance with the requirements applicable to casinos and to taking effective risk-based measures to prevent and detect money laundering," a company statement added back then.