By
Phil
- 27 February 2015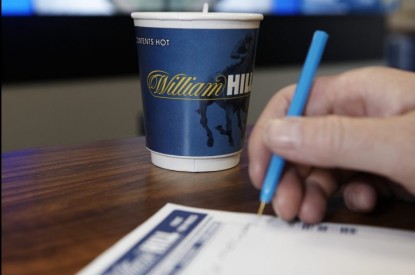 British bookie William Hill has reported revenues of £1.6bn in 2014, marking an increase of eight per cent on the £1.5bn recorded in 2013.
It saw record operating profit with continuing successful diversification with 40 per cent of net revenue coming from digital channels and 18 per cent from international markets. There was continued strong growth in Online Sportsbook: with turnover up 28 per cent, mobile wagering up 55 per cent and record-breaking World Cup revenue. Online gaming net revenue was up 17 per cent and there was: 117 per cent growth in mobile driven by its proprietary Vegas platform. William Hill also reported strong growth in net revenue in Italy and Spain, up 39 per cent and 64 per cent respectively.
James Henderson, Chief Executive Officer of William Hill, commented: "2014 was a record year for William Hill, with good operating profit growth benefiting from the continued digital and international diversification of our revenue streams, and from a record-breaking World Cup performance. I am particularly pleased with the progress in our three strategic areas of focus: differentiation through technology; continued internationalisation; and maximising the omni-channel opportunity of Retail and Online.
"Online has delivered 21 per cent compound annual net revenue growth since 2009 and is competitively at the leading edge in this market," he continued. "Internationally, we have reshaped our Australian business and are moving it to the William Hill brand, enhancing its competitiveness in this attractive market. Our US operations continue to progress strongly and we are well positioned in the event of regulatory change. Retail remains resilient and, with the largest number of betting shops in the UK and as the leading UK digital operator, we are moving closer to a 'one customer' proposition to deliver a seamless experience for our customers across our channels.
"We are committed to working with the industry and the regulator to promote responsible gambling. We have put better tools in the hands of customers, increased awareness of the importance of responsible gambling and helped establish mechanisms for independent scrutiny of the industry. The RGT's ground-breaking research programme is an invaluable body of data and analysis, which will support what we all strive for – evidence-based decision-making," he added. "Excluding one significant loss-making week driven by customer-friendly football results, the sum of the remainder of the first eight weeks of Q1 2015 to 24 February 2015 has been in line with internal revenue expectations, benefiting from gross win margin growth. Whilst inclusion of the loss-making week leaves us behind internal expectations for the period as a whole, the Board's view is that this volatility in sporting results is now a normal part of the Group's trading given the increased proportion of accumulator football betting in Online as well as Retail. Therefore, the Board remains confident in its expectations for 2015."