By
Lewis
- 5 March 2021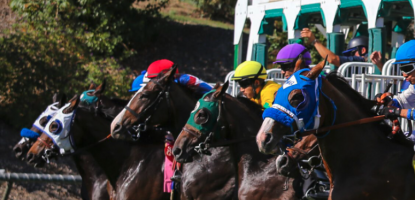 Turf Paradise Racetrack has signed a multi-year totalisator services agreement for live racing with AmTote International, a product of 1/ST Technology.
The agreement provides technology to Turf Paradise, designed to enhance the betting experience for its customers.
The upgrade features year-round simulcast wagering on track and an initial OTB network of 38 locations, a number anticipated to grow back to pre-pandemic levels in excess of 50 in 2021.
The new AmTote technology includes the V3000 self-serve terminals and the F3000 convertible teller or self-serve terminal. Services also add the ability to leverage mobile betting through AmTote's MBet platform.
1/ST Technology's products – AmTote, Xpressbet, 1/ST Bet, XB Select, XB Net, PariMax and Betmix host the majority of racetrack operators in North America and are currently in operation at Santa Anita Park, Gulfstream Park, Saratoga Race Course, Belmont Park, Aqueduct, and Woodbine amongst others, and process more than $15bn in pari-mutuel and fixed-odds wagering around the world each year.
1/ST Technology already services Turf Paradise fixed-odds wagering through its XB Net business, providing exclusive fixed-odds betting services and distribution for Turf Paradise racing.
Keith Johnson, Chief Revenue Officer at 1/ST Technology, commented: "We very much look forward to ushering in a new era at Turf Paradise from the wagering technology evolution perspective, in addition to our broader agreement to support Turf Paradise's efforts to distribute its horse racing content and wagering on a global scale now encompassing both fixed-odds and pari-mutuel betting opportunities.
"We're confident these milestone developments can reignite horse racing's consumer economy. Moreover, it's fantastic to see AmTote and Turf Paradise racetrack working in unison to return value back to North American racing in these challenging times.
"Securing this long-term collaboration confirms 1/ST Technology's commitment to the sport and its wider status as the leading international provider of North American racing. This deal is a ringing endorsement of our business model and the combined diligence of our multi-faceted team.
"During the pandemic, North American horse racing has been one of very few elite sports that has been able to maintain both a solid timetable and a high bar for quality and data integrity with rapid-cycling content that can fill any live sports wagering scheduling gaps."