By
Phil
- 6 November 2020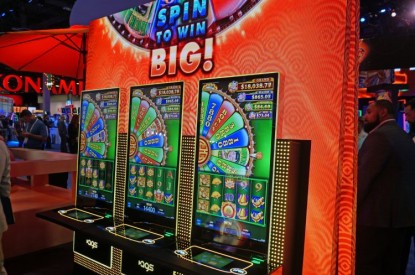 PlayAGS saw its net loss 'dramatically' improve quarter by quarter with its third quarter of $11.1m up from the $42.6m loss in the second.
Adjusted EBITDA increased to $27m compared to a loss of $1.2m in the 2020 second quarter. Total revenue reached $49.3m compared to $16.8m in the 2020 second quarter. Revenue decreased 37.9 per cent year-over-year, with the decline predominantly attributable to the pandemic's negative impact on AGS' customer's operations and, subsequently, its own gaming operations revenue and EGM unit sales.
AGS President and Chief Executive Officer David Lopez said: "I am extremely proud of how our team came together to offset the challenges brought upon by the COVID-19 pandemic to deliver better than expected third quarter 2020 financial results. Our employees' experiences throughout the pandemic will only help to strengthen their collective resolve, in turn propelling AGS to emerge a stronger and more nimble company as the world gradually returns to normal."
Mr. Lopez added: "I continue to believe AGS has its strongest pipeline of new product and game themes in the Company's history, positioning our EGM segment for greater success in the quarters ahead. I am particularly enthused about the prospects for our domestic EGM recurring revenue business, supported by the continued outperformance of our initial Starwall installs, and believe improved hardware and game content position us to command our fair share of future unit placements. Additionally, I remain encouraged by the strategic growth opportunities emerging within our table games segment and look for our interactive performance to continue to improve as additional states contemplate the introduction of real money online gaming legislation."
AGS Chief Financial Officer Kimo Akiona added: "Our third quarter financial performance improved dramatically compared to the 2020 second quarter, with revenues, net loss, and adjusted EBITDA improving sharply on a sequential basis. Importantly, we were free cash flow positive in the quarter, allowing us to report a strong liquidity position of $113.2m at quarter end. Given our better-than-expected third quarter financial performance and growing comfort with our resulting liquidity position, we elected to fully repay the $30m outstanding on our revolving credit facility, subsequent to quarter end."
The quarter saw 387 EGM units sold into 11 US states and two Canadian provinces, with Pennsylvania, British Columbia, and California emerging as the company's top three sales markets. The Orion family of cabinets accounted for 95 per cent of units shipped in the quarter. It also installed 45 seats of its new premium, lease-only Orion Starwall immersive video cabinet, increasing the installed base to over 50 seats at quarter end.
The company said: "Starwall games are performing well above house average, further stimulating operators' interest in the product. We installed over 85 Orion Curve cabinets in the quarter, increasing our total footprint to over 150 units as of September 30, 2020. Ultimate Choice Jackpot and Imperial 88 families of games are performing well above house average, reflecting encouraging initial returns on our unwavering commitment to consistently invest in R&D."