By
Phil
- 14 September 2021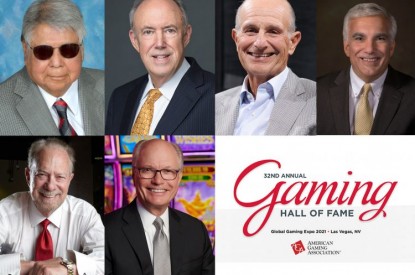 The American Gaming Association (AGA) has announced the Gaming Hall of Fame classes of 2020 and 2021, recognizing leaders who have distinguished themselves through significant contributions to the gaming industry.
This year's inductees are Knute Knudson, Jr., Vice President of Global Business Development and Tribal Ambassador, IGT, Jeremy M. Jacobs, Chairman, Delaware North, James R. Maida, President and CEO, Gaming Laboratories International, Jim Shore, General Counsel, Seminole Tribe of Florida, Jeffrey A. Silver, Of Counsel, Dickinson Wright PLLC and Dr. Mark Yoseloff, Retired Chairman, CEO, Shuffle Master, Inc.; Founder, UNLV Center for Gaming Innovation.
"Each of these pioneers has left a unique, indelible mark on our industry," said AGA President and CEO Bill Miller. "Under their leadership, tribal gaming has boomed, professional sports leagues have embraced sports betting, and the gaming industry is thriving despite the challenges we've faced over the past year and a half."
Renato Ascoli, IGT CEO, Global Gaming, said of Knute Knudson's induction: "Knute's dedicated support and committed advocacy of tribal gaming expansion and sustained health and well-being of Indian country are unmatched in our industry. Knute is a true champion of tribal gaming—a constant source of knowledge, guidance, and support to hundreds of tribes throughout his lengthy career. IGT is incredibly proud that Knute's impact as a strategic partner and dedicated friend to Indian Country is being recognized with an induction into the AGA's Gaming Hall of Fame."
"I am distinctly honored and thrilled to be accepted into this esteemed group of AGA Gaming Hall of Fame honorees," said Knudson. "The advancement of Indian gaming, tribal self-sufficiency, and, importantly, Tribal Sovereignty has been my life's work, and my success is intricately tied to Indian people who have trusted me to advance their causes and expand gaming opportunities on their behalf. I am grateful for their confidence, partnerships and friendships and thank IGT for its continued support."
Since its establishment in 1989, the Gaming Hall of Fame has honored an annual class of industry leaders until last year when the selection and event was postponed due to the COVID-19 pandemic. Both the Class of 2020 and 2021 will be honored during the invitation-only Chairman's Reception featuring the Gaming Hall of Fame Induction Ceremony at the Global Gaming Expo.
"This year's honorees have been key players in proving that gaming is a world-class entertainment experience," added Aristocrat Technologies CEO and AGA Chairman of the Board Trevor Croker. "We're proud to recognize them and the important role they've played shaping gaming into the dynamic industry it is today."
This year's selection committee members include Joe Bertolone, Executive Director, ICGR at UNLV, Kirsten Clark, Executive Director, International Association of Gaming Advisors, Mary Cheeks, President and General Manager, Jamul Casino, Trevor Croker, CEO, Aristocrat Technologies and Chairman, AGA, Christie Eickelman, Vice President, Global Marketing, GLI and (former) President, Global Gaming Women, Alan Feldman, Board Chairman, International Center for Responsible Gaming, Brian Hansberry, President, Delaware North, Gaming, Steve Sutherland, President and CEO, Konami Gamingand Virginia Valentine, President and CEO, Nevada Resort Association
Knute Knudson, Jr. has dedicated his career to tribal gaming and the entire Indian community, serving as an advocate, mentor, and transformative business leader. His efforts have influenced the success of hundreds of tribes as they established and expanded their Indian gaming operations across the U.S. In his early career at the US Department of the Interior, Knudson led efforts to implement the Indian Gaming Regulatory Act, working on compacts, trust applications, and National Indian Gaming Commission appointments. He played an integral role in securing economic self-sufficiency for Indian Country throughout the 1990s and authored Getting Started in Indian Gaming, which became the blueprint for the first decade of tribal gaming startups. Knudson is recognized across the industry for the vital role he played, and continues to play, in the growth and economic modernization of tribal gaming.
Jeremy "Jerry" Jacobs is a pioneer of gaming and hospitality. He is currently the chairman of Delaware North, owner, chairman, and governor of the Boston Bruins, and chairman of the NHL's Board of Governors. He led a transformation of Delaware North into a global company with roots in gaming, hospitality, and entertainment. Whether casino gaming in its early days or sports betting today, Jacobs helps stakeholders understand the benefits of the industry to the economy and communities. He built coalitions of competitors who shared the same goals and always played the long game, which is reflected in today's thriving, modern gaming industry. This is most evident in the NHL and sports leagues transformation on sports betting. Jacobs is enabling critical partnerships between gaming operators and the leagues and franchises by educating colleagues on the mutual benefits of sports betting. The more than 200 sports-gaming partnerships today would have been inconceivable when Jerry started his career, but his vision and commitment to gaming's growth paved the way. Today, Delaware North owns or operates gaming destinations in seven U.S. states as well as in Darwin, Australia, and owns Ruby Seven Studios, a leading social casino developer. The company recently announced a partnership with GAMING1 to launch Gamewise, a joint venture for sports betting and iGaming.
James R. Maida is a legend in the casino business. As a lawyer in the New Jersey regulatory system, he quickly saw that his agency was getting overwhelmed with requests to test slot machine systems, so he began to do it himself out of his spare bedroom in his apartment. He started Gaming Laboratories International (GLI®) in 1989, and today has grown it into an international company serving the needs of the gaming industry and regulators alike. Through Maida's innovation at GLI, jurisdictions everywhere have embraced gaming, unencumbered by the burden of establishing, running, and continually funding their own government-run labs.
Jim Shore's career has defined the Florida gaming industry and reverberated across tribal gaming. As the first member of the Seminole Tribe to become a lawyer, he has served as the Seminole Tribe's general counsel since the 1980s. Shore is credited with leading the compact negotiations and legal efforts that have helped make the Seminole Tribe and its gaming ventures the success they are today. He recently led compact negotiations with the state of Florida to expand into new forms of gaming.
Jeffrey A. Silver's contributions to gaming, and specifically Las Vegas, reach every aspect of the industry from regulatory to casino operations to legal. Silver first made his mark in gaming when he took a stand against organized crime as a member of the Nevada Gaming Control Board and subsequently laid the foundation for corporate investment in gaming. His reputation opened the door for innovation when he took on leadership roles at various Las Vegas casino resorts. Silver is attributed with bringing the first food and beverage corporate partners into the casino, leading "The Burger King Revolution" that was key to driving middle class tourism to Las Vegas in the 1980s. Silver's third act as an internationally recognized lawyer and trusted advisor has helped shaped today's global landscape.
Dr. Mark Yoseloff's innovative mind transformed casino table games and, today, inspires the next generation of gaming. As a Ph.D in mathematics he created classic games like Mississippi Stud Poker and other legendary table games. Yoseloff—the owner of hundreds of gaming patents—led ShuffleMaster from a small shuffling machine company to an international giant introducing groundbreaking products and services to the casino floor. Yoseloff then used his talents to create UNLV's Center for Gaming Innovation to teach the next generation of game creators. His internationally acclaimed program has led to the creation of countless new games and patents—all owned by his students to empower them on their path into the gaming industry.