By
Phil
- 16 May 2021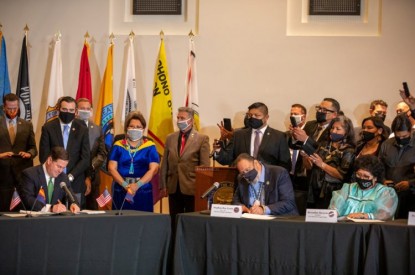 The Arizona Department of Gaming (ADG) has begun drafting rules for new forms of gaming in Arizona following Governor Doug Ducey's signing of historic legislation and an amended Tribal-State Gaming Compacts (Compacts).
These actions pave the way for modernized gaming in Arizona and will soon generate millions of dollars in new revenue for essential public services. Last month, Governor Doug Ducey signed House Bill 2772 and the amended Compacts, legalizing fantasy sports contests and event wagering in the State of Arizona. ADG will initiate a robust public process to develop rules for these new forms of gaming. The Department is hard at work to make these new gaming opportunities available to Arizonans responsibly and as soon as possible.
This comprehensive legislation directs the Arizona Department of Gaming (ADG) to adopt rules and act as the primary regulator and enforcement body for fantasy sports contests and event wagering. Additionally, this legislation requires fantasy sports contests and event wagering providers to furnish help for those who may have a problem with gambling, as well as allows individuals to exclude themselves from these new forms of legal wagering statewide.
"I am excited to see House Bill 2772 pass through the legislature and signed by Governor Ducey," said Ted Vogt, Director, ADG. "The Department is already hard at work drafting rules and procedures to ensure the safety and security of the Arizona betting public as we look towards implementing event and fantasy sports wagering in the months ahead."
While ADG has already begun drafting rules for these new forms of legalized games, there are several steps these rules and associated amended Compacts will have to go through in order to become operational.
The amendments and the associated legislation took more than five years to negotiate. It ensures gaming in Arizona remains limited and regulated while providing certainty for the future of the tribe's and the state's economy.
National Indian Gaming Association Chairman Ernie Stevens, Jr. said: "What a great day for tribal government gaming and the tribes in Arizona. It was truly an honor to bear witness to this significant gaming compact signing ceremony between sovereign tribal governments and the state of Arizona." Stevens added, "First and foremost, tribal government gaming has always been about providing vital services to our tribal citizens towards ensuring future generations. Further, it affirms that tribes are great neighbors and friends who continue to do our part to contribute to the economic growth and critical jobs for American families."
The compact agreement is good until the year 2046 and allows casino expansions for tribes to operate thousands of more slot machines, open at least four new casinos, and take bets on new table games. It also includes amendments for a sport-betting law that allows tribes and professional sports organizations to open twenty sportsbooks in Arizona.
Gila River Indian Community Governor Stephen Roe Lewis addressed the ceremony's audience, saying: "The Gila River Indian Community is proud to partner with other tribes and the state to come to a gaming agreement that benefits all communities. Gaming enhances economic development and job growth within our tribe, and it provides funding sources for education, housing, and much more for tribes throughout Arizona.
Governor Lewis added: "We argued before we agreed, and we fought before we found middle ground, but here we are today, celebrating the most unique unicorn in political life – a genuine win for us all."
Arizona Governor Doug Ducey said: "I can't overstate the impact the tribal-state gaming compact amendment and its associated legislation will have on our state. Gaming employs thousands of Arizonans, and it generates millions in tax revenue that benefits areas like K-12 education, conservation, and treatment centers. Today's signing is a culmination of years of partnership and engagement among many diverse stakeholders — and we did it by bringing everyone to the table, pushing individual agendas aside, and putting Arizona first."
Arizona's first tribal-state gaming compacts were entered in 1992. Arizona voters approved the continuation of tribal gaming ten years later with the passage of Proposition 202. Since then, all 22 federally recognized tribal nations in Arizona have entered into compacts with the state, establishing a relationship that has been mutually beneficial to the tribes and the state.
Chairman Stevens joins Fort McDowell Yavapai Nation President Bernadine Burnette and Arizona Governor Doug Ducey at historic compact signing ceremonies in Phoenix
As of December 2020, there has been nearly $1.5 billion in total tribal contributions to the state, counties, cities, and towns in Arizona since the original compacts were signed.