By
Phil
- 8 May 2014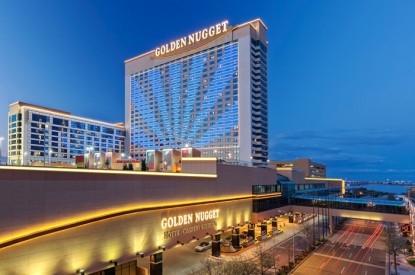 Bally Technologies has expanded its partnership with Golden Nugget to become the exclusive, enterprise-wide Systems provider for Golden Nugget's five gaming properties in the United States, including its properties in Nevada, New Jersey, Mississippi, and a soon-to-be-opened casino resort in Louisiana.
In total, Bally's award-winning systems offerings will be connected to nearly 6,400 slots and table games across four states. Additionally, Bally's solutions will be customised to be integrated with the Golden Nugget "Select Club" patron-loyalty program at more than 440 restaurants nationwide, in addition to the five casino resorts. This will enable Golden Nugget to have a singular view of its patrons, no matter where they are dining or playing.
"We believe Bally's robust technology can meet our aggressive goals moving forward and position us best to continue offering a high-end experience at our restaurants and resorts," said Golden Nugget Chairman, Chief Executive Officer, and Sole Shareholder Tilman Fertitta. "We are confident Bally is best suited to take our loyalty and tracking programs to the next level, while continuously helping us meet our revenue goals quickly. Bally's fresh new lineup of game titles will also bring a new level of excitement to our casino floors."
In addition to the Bally Systems already installed at the Golden Nugget properties in Atlantic City and Biloxi, Bally will replace a competitor's Systems at the Golden Nugget Las Vegas and the Golden Nugget Laughlin. Bally also plans to install its Systems at the Golden Nugget Lake Charles, which is scheduled to open in late calendar 2014.
Golden Nugget selected an expansive array of Bally's state-of-the-art Systems solutions, including SDS, CMP, iVIEW Display Manager (DM), Elite Bonusing Suite, Business Intelligence, Promotional Kiosk, Service Tracking Manager, TableView, and CoolSign.
Bally has also signed an agreement to provide many of its latest slot games to the properties, including many fresh new titles featured on the new ALPHA 2 Pro Wave cabinet and powerful Quick Hit content on the ALPHA 2 Pro Curve cabinet.
Among the Bally licensed premium titles to be featured at Golden Nugget properties will be TITANIC, The Magic of David Copperfield, and ZZ Top Live From Texas.
"We have had an important partnership with Golden Nugget for many years," said Bally's President and Chief Executive Officer Ramesh Srinivasan. "The Golden Nugget casinos in Atlantic City and Biloxi have been very valuable members of our Systems family. We are proud to have Golden Nugget Atlantic City as the first online wagering customer of our open-architecture iGaming platform. Our partnership with Golden Nugget continues to drive our Systems and Interactive technology solutions towards our vision for a common single view of the player."
"We are laser focused in our desire to provide Golden Nugget with solutions which enable player marketing integration across all the channels of consumption, including their land-based casinos, online wagering, mobile wagering, and affiliated restaurants," he added. "Our highly configurable Systems and Interactive solutions will provide Golden Nugget the exact solution combinations they need. We are very grateful and proud of our Golden Nugget partnership."