By
Phil
- 2 August 2023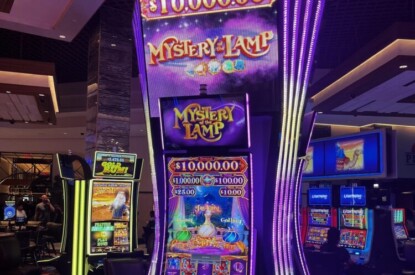 An impressive quarter with record US & Canada unit shipments for IGT saw consolidated revenue grow three per cent to $1.06bn, up three per cent from $1.02bn in the prior year; net of the Italy commercial services sale in September 2022, revenue increased 11 per cent.
Global Gaming revenue of $373m was up 13 per cent from $330m in the prior year, on record US & Canada unit shipments for a second quarter period, higher global average selling prices, growth in the installed base across geographies, and robust system sales.
IGT's Global Lottery revenue of $624m was down four per cent year-over-year; net of the Italy commercial services sale, revenue rose eight per cent on strong same-store sales in Italy, execution of a multi-year software licensing agreement for a lottery central management system, and higher LMA incentives.
PlayDigital revenue increased 38 per cent to $59m, up from $43m in the prior year, primarily driven by strong player demand trends and contributions from the iSoftBet acquisition
Operating income rose 10 per cent to $251m with a 24 per cent operating income margin up 150 basis points on margin expansion across segments. Adjusted EBITDA was up eight per cent to $443m; adjusted EBITDA margin increased 190 basis points to 42 per cent.
"Our second-quarter and first-half results reflect solid revenue and profit momentum across all business segments," said Vince Sadusky, CEO of IGT. "We achieved the high end of our outlook by executing key strategic initiatives and growing demand for IGT's compelling content and solutions. We are solidly on track to deliver on our 2025 objectives and remain focused on unlocking the intrinsic value of IGT's market-leading businesses."
"Our year-to-date performance showcases the strong cash generation of the business. We have a solid foundation to build from as we continue to invest in our growth objectives, further reduce debt, and return capital to shareholders," said Max Chiara, CFO of IGT. "Based on our first-half results, we are confidently raising our full-year 2023 revenue and operating margin outlook."
During the quarter, IGT secured a 10-year brand licensing extension with Sony Pictures Television granting IGT exclusive rights to the legendary Wheel of Fortune brand across Gaming, Lottery, iGaming, and iLottery as well as non-exclusive rights to distribute Wheel of Fortune content for free-to-play social casinos
It was awarded 20-year license, as part of a consortium, to operate certain lottery games for Minas Gerais State Lottery in Brazil; executed 10-year contracts in Malta for lottery technology and instant ticket printing; won eight-year iLottery contract in Connecticut; executed four-year transition agreement in Belgium and contract extension in Costa Rica.
It also executed agreement to deploy its award-winning IGT ADVANTAGE system at the Rio Hotel & Casino, launched Mystery of the Lamp on new PeakCurve 49 cabinet and launched its first-ever omnichannel Wheel of Fortune jackpot game in the US and exclusively digital MegaJackpots games in Alberta and expanded omnichannel Powerbucks games to Alberta, building on success in other Canadian provinces.