By
Phil
- 2 August 2023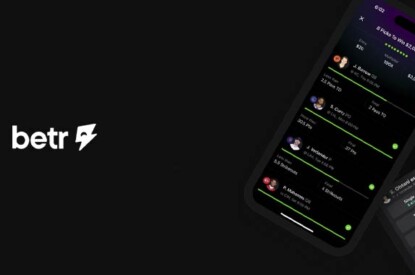 Betr Holdings has announced the launch of Betr Picks, a pick 'em style fantasy game to complement its existing real money and Online Sports Betting (OSB) product, Betr Sportsbook.
The simple and intuitive real money fantasy pick 'em experience allows users to select More or Less from a wide array of player projections to build a lineup with as few as two and up to a total of eight players. Users have the potential to win up to 100x their initial entry if they get eight picks correct.
Betr Picks is now available in 24 jurisdictions, including California, Texas, Florida, Illinois, Georgia, and North Carolina, that collectively represent over half of the U.S. adult population, and the company is planning to further expand its fantasy reach to at least 30 total jurisdictions by the end of 2023. The Betr Fantasy & Sportsbook app is currently available on iOS with plans to launch on Android soon. This launch marks the first time that sportsbook and fantasy will operate within a single app.
Fantasy sports is the latest extension of Betr's real money gaming business, which already has an established OSB business with live operations in Ohio and Massachusetts and plans to launch OSB in Virginia in the coming weeks and additional jurisdictions in the months ahead. Betr Picks offers a differentiated pick 'em experience, including the ability to pick up to eight players, higher payout multiples (up to 100x), and no pushes. Betr's signature focus on simple and intuitive product design, along with its bespoke integrations with Betr Media, will further distinguish the Betr Picks experience from the broader fantasy sports gaming market. To celebrate the launch of Betr Picks, Betr, the Official and Exclusive Sports Betting and Fantasy Partner for Jake Paul vs. Nate Diaz, will feature a special Paul vs. Diaz free-to-play picks game, which will offer users a chance to win their share of up to $1M in prizes. The game is available now until August 5th when the first bout of Most Valuable Promotions and Real Fight Inc.'s Paul vs. Diaz pay-per-view begins live on DAZN and ESPN+ in the U.S.
Betr Picks represents the first time Betr Gaming is able to more fully capitalize on the nationwide media audience and brand of Betr Media. As the fastest growing sports betting media brand in the United States, Betr Media has already surpassed 1.5 billion impressions on social media less than a year after launch. Betr Media is focused predominantly on original and short-form content, which the Company believes will be the primary form of sports media consumption for the 21-34-year-old male demographic outside of consuming live sporting events themselves. Betr Media will also be launching the @betrpicks sub-brand on social media, giving fans a more targeted community-driven vertical for fantasy and picks content. The channel will be led by rising social media star Derek Sullivan (aka BetrDerek) with consistent appearances from Betr's robust talent network such as Jake Paul, Marco Piemonte, Haley and Hanna Cavinder, Bo Nickal, Handshake Bets and more.
The launch comes shortly after Betr announced the acquisition of the Chameleon platform from FansUnite (TSX: FANS), which enabled Betr to enhance and accelerate its product roadmap. The Chameleon acquisition allows the company to develop its upcoming V1 OSB product, which will feature sportsbook capabilities including pre-match and in-play core markets, parlays, same game parlays, futures, props, and other bet types, along with over 20 additional sports. The Company's current OSB product, which it refers to internally as V0, is a beta product that will continue to operate in Ohio, Massachusetts, and soon Virginia until V1 launches in H1 2024.
"We are thrilled to expand the Betr Gaming business by introducing our real money fantasy sports vertical with the launch of Betr Picks," said Joey Levy, Founder and CEO of Betr. "Betr Picks allows us to acquire and engage real money gaming users across the United States, enabling Betr Gaming to more fully capitalize on the nationwide presence of Betr Media for the first time, all while providing a complimentary pre-match experience to our in-play focused OSB product. We believe Betr Picks already features a strong core user experience relative to existing pick 'em products, and we have several material enhancements that will be released over the coming weeks and months including more sports, game modes, media integrations, deposit and withdrawal capabilities, and more."
Betr's proactive industry leadership in safe and responsible play will continue with Betr Picks, which also features the same Responsible Gaming-focused tenets the Company has rolled out for its OSB product, including a 21+ age requirement to play, a ban on credit card deposits for all users, and restrictions on the monthly deposit amounts for young consumers aged 21-25 years old. Betr Picks is backed by legal opinions from both nationwide and state-specific experts in the gaming space and is only available in jurisdictions where fantasy gaming has been legalized by statute or is permitted via case law and/or legal precedent.
Betr Picks is available in California, Texas, Florida, Illinois, Georgia, North Carolina, Wisconsin, Minnesota, South Carolina, Kentucky, Oregon, Oklahoma, Utah, Arkansas, Kansas, New Mexico, Nebraska, Rhode Island, South Dakota, North Dakota, Alaska, Washington D.C., Vermont, and Wyoming.