By
Phil
- 26 March 2019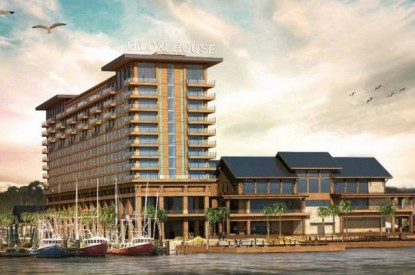 Biloxi House LLC has applied to the Mississippi Gaming Commission to build an expanded casino resort at the site of the former Margaritaville Casino at Point Cadet.
The new resort, designed by Cuningham Group, will lose the tropical feel of Margaretville and replace it with Old Biloxi authenticity with lots of wood, steel and warm earth tones.
The $200m redevelopment will incorporate the original 68,000 sq. ft. building but will add a 300 room all-suite hotel, a casino with more than 1,000 slots, along with table games, poker tables and sports betting, a steak and seafood fine dining restaurant and a buffet, cafe, grab and go venues and sports lounge.
The hotel will offer an infinity pool on the waterfront with marina space and a boating attraction, spa and fitness center and entertainment venues, indoors and at the pool deck. Once all the approvals have been given, the project will take 14 months to complete with the initial aim of opening the casino by late 2020.
Tom Moore, of the RAM Group, one of the developers behind The Biloxi House, said: "This group has been working for the last seven months, doing lots of research for this project. Our developers really liked this site. They feel that Biloxi and the Louisiana casino market is the second-largest in the nation and fell in love with the culture here. They see not only a building that can be redone, but they also really enjoy the view. Nothing's going to be the same."
Biloxi House is the fourth casino proposed for South Mississippi, with Long Beach, Lakeshore and D'Iberville all looking for similar approvals.