By
Phil
- 26 April 2018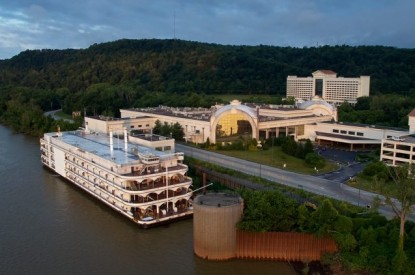 Caesars Entertainment will spend US$85m on transforming its Horseshoe Southern Indiana casino in Elizabeth, Indiana, into a land-based casino.
The existing riverboat location, built in 1998, will be replaced with a 100,000-square-foot one-story facility housing the casino, as well as restaurants and retail outlets and a new entertainment venue. The move comes following a 2015 Indiana law which allows casinos to build and operate land-based casinos on existing sites. The Indiana Gaming Commission has approved the relocation.
Brad Seigel, Senior Vice President and General Manager of the Horseshoe Southern Indiana, said: "By moving the casino operations to a new building, we are able to give guests a fresh, new modern casino and an enhanced experience. Integrating the food, entertainment and gaming outlets in one area builds upon the high-quality experience that guests expect from our property. We will continue to operate as normal during the renovation and welcome guests to take this journey with us over the next 18 months."
"We are proud of our 20-year history of operating in Indiana and the millions of dollars and hours of contributions we make to the local communities in which we work, live and play. This project further demonstrates our continued enthusiasm for and commitment to the State."
The new casino will be located adjacent to Horseshoe's riverboat operations and plans to have the grand opening sometime during the second half of next year.
Tropicana Evansville was the first to take advantage of the new laws, opening a land-based casino last year.
Related Stories