By
Phil
- 16 March 2020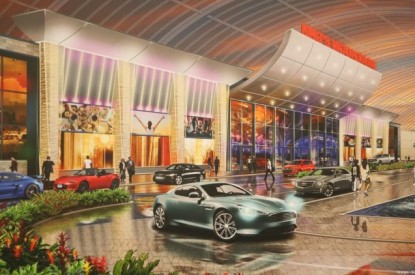 The Catawba Indian Nation has presented plans and renderings of the new destination casino planned for a site in Kings Mountain, North Carolina although the bid will be challenged by the Eastern Band of Cherokee Indians.
As a result of the recent US Department of the Interior's decision, land in Kings Mountain will be taken into trust so the Catawba Indian Nation can move forward with the proposed project. The casino and mixed-use entertainment complex will cover 195,000 square feet. The gaming area will consist of 75,128 square feet with approximately 1,796 electronic gaming machines and 54 table games. It will also include a 940-seat restaurant, a small retail space for the sale of Native artwork and crafts, and 2,130 parking spaces to accommodate both patrons and employees
"The Nation is very thankful for the Department's decision to take this land into trust, enabling us to achieve the promise of self-determination though economic development," said Chief Harris. "The Department has a very rigorous process for reviewing proposed trust land acquisitions. We are very thankful for the hard work of the Department's solicitors and staff on our application, who carefully reviewed our history, including our historic land settlement, ensuring that it is consistent with the Supreme Court's Carcieri decision."
"The land is located in close proximity to our current landholdings and is our ancestral land, in an area that the Catawba people have used and occupied since time immemorial."
The Nation will work closely with leaders in the City of Kings Mountain and Cleveland County to bring the full project to reality which is projected to bring as many as 5,000 badly needed construction jobs and 4,000 valuable permanent jobs to the area. This will diversify and strengthen the local economy.
In addition, the Catawba Indian Nation plans to begin working closely with Governor Cooper's office so that the state of North Carolina can also benefit from the project in Kings Mountain.
"We want to thank Senators Graham, Tillis and Burr for their continual support to correct this injustice to the Catawba Indian Nation," said Chief Bill Harris. "We look forward to sharing details on the project as we move forward."
The leadership of the Eastern Band of Cherokee Indians has said it will file a lawsuit against the federal government claiming 'the decision threatens Cherokee cultural lands, the environment, and the rule of the law.'
Principal Chief Richard G. Sneed said: "The federal government has no right or authority to create a new reservation for the Catawba Nation across state lines, into Cherokee historical territory, just to build a casino. This decision creates a dangerous precedent for all federally recognised tribes that empowers corrupt developers and their lobbyists to use politicians to determine what laws and precedents are followed and which ones are ignored. This decision cannot and will not stand."