By
Phil
- 8 May 2021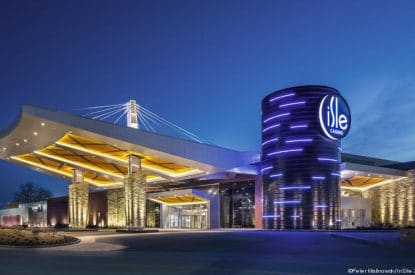 Century Casinos has seen some of its US casinos surpass pre-pandemic operating levels with venues in Missouri operating at 27 per cent higher than 2019 levels, and the Cape Girardeau Casino generating its highest ever slot revenue.
But with results driven almost exclusively by its casinos in the US, due to COVID-related closures in Canada and Poland, Century Casinos reported first quarter net operating revenue of $72.4m, a decrease of 17 per cent from the three months ended March 31, 2020, but earnings from operations came in at $8.2m, an increase of 126 per cent from the three months ended March 31, 2020. Adjusted EBITDA for the quarter was $14.7m, an increase of 53 per cent over the first quarter of last year compared to EBITDA of Q1 2019.
"Without closures, we estimate our adjusted EBITDA would have been around $22m," said Peter Hoetzinger, Co-Chief Executive Officers of Century Casinos."We estimate the negative impact of these closures to Adjusted EBITDA was at least $6.7m. For the third quarter in a row, we have been able to achieve high operating margins and we believe that will continue to be attainable. We look forward to the reopening of our casinos in Poland on May 8, our casinos and racetracks reopening in Canada and to a busy summer season in North America as the pandemic subsides. It was a great quarter. January and February were good. March was exceptional. And it is great to see that strength continuing into April and early May. As most other local and regional casinos, we are benefiting from pent-up demand. Well, actually, I'm not sure if we can call it that, because that strong demand has been around since June, so almost a year now."
"As COVID vaccinations continue to rollout and restrictions lift, we expect visitation to improve further as the year progresses," he added. "We've also benefited from new player sign-ups, especially at our three new properties in West Virginia and Missouri, where new sign-ups were 30 per ecnt higher than in Q4 2020. And the worth of these new players was even more impressive. It was 41 per cent higher compared to the first quarter of 2019. This influx of new players is providing us the great opportunity to grow our database, identify high-value players and convert them to loyal regular visitors."
Mr. Hoetzinger said it had been a 'fantastic quarter' for the company's properties in Cripple Creek and Central City, with both casinos 'outpacing even pre-COVID levels.'
"Net operating revenue was up 40 per cent over 2020, and it was up 17 per cent over 2019, in spite of capacity restrictions throughout the quarter," he explained. "in Missouri, our most important market in terms of EBITDA and cash flow generation, our two properties in Cape Girardeau and Caruthersville have machines in operation, but only 54 per cent per cent of our table game positions are available for play. As a result, for the quarter, net operating revenue was up 44 per cent over 2020, and it was up 27 per cent over 2019. Adjusted EBITDA was up 2.5 times over 2020, and it was up 77 per cent over 2019. The EBITDA margin jumped to a first quarter record of 49.7 per cent. The Cape Girardeau slot revenue in the quarter was the highest quarterly slot revenue in that property's history."
In West Virginia, where Century operates the Mountaineer Casino, Racetrack & Resort, adjusted EBITDA doubled compared to Q1 2020, but was down 25 per cent compared to 2019.
"This is not surprising, because of a temporary smoking ban and a curfew in Ohio, where the majority of Mountaineer's business comes from. Currently, the gaming floor offers about 94 per cent of the slot machines and 47 per cent of table game positions for play," Mr. Hoetzinger explained.
In terms of reopenings in Canada and Poland, Mr. Hoetzinger said: "Our operations in Poland were closed for most of the quarter. We operated for a couple of weeks in March only. And the very latest news points to an opening in early June. Monthly cash flow is about $1m. We are in talks with several parties about the sale of the Polish casinos. In Canada, we currently anticipate reopening sometime next month, early mid-June, but that's speculation at this point in time. The monthly cash burn is about $1.4 million, while we are closed."