By
Phil
- 25 October 2021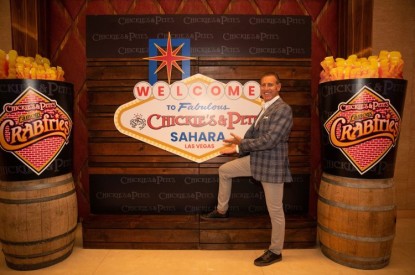 Chickie's & Pete's, voted ESPN's Number 1 sports bar in North America, celebrated the grand opening of its first West Coast outpost inside SAHARA Las Vegas on October 21.
Founded in 1977 by Peter "Pete" and Henrietta "Chickie" Ciarrocchi, the crab house and sports bar has cemented itself as a Philadelphia staple and their World famous Crabfries have become synonymous with game days in the Northeast.
To honor and celebrate the historic opening, Clark County Commissioner Tick Segerblom officially declared Oct. 21 as Chickie's & Pete's Day on the Las Vegas Strip. SAHARA Las Vegas Senior Vice President and General Manager Paul Hobson and Pete Ciarrocchi, Chairman and CEO of Chickie's & Pete's completed the ceremonial ribbon cutting for the one-of-a-kind location of the beloved sports bar.
"As we near completion of our massive $150m transformation, we are thrilled to welcome Chickie's & Pete's to our exciting new Strip-facing restaurant row," said Paul Hobson, SAHARA Las Vegas Senior Vice President and General Manager. "We're honored to be home to such a beloved venue for sports fans, especially as Las Vegas' professional sports landscape continues to grow."
"I couldn't be happier to bring some brotherly love and the Chickie's & Pete's legacy to SAHARA Las Vegas," said Pete Ciarrocchi, Chickie's & Pete's Chairman and CEO. "This is an incredibly exciting expansion over to the West Coast and we are honored to have such an iconic property as our partner in it."
The 8,200 square-foot venue is the only Chickie's & Pete's location to include a William Hill sports book, making it the ideal game day destination. Sports fans can watch their favorite teams across 20, 55″ televisions in the bar area and 24, 98″ and 65″ televisions across the dining area. Three VIP Gaming Pods each include two televisions, oversized sectional sofas, video game consoles, a buffet-style table, and custom Las Vegas panoramic murals. Throughout the dining area, guests can view rare memorabilia from sports legends including Kobe Bryant, Tom Brady, Joe Dimaggio, Larry Bird and more. The Philadelphia-born outlet also embraces the burgeoning Las Vegas sports scene with memorabilia from the Vegas Golden Knights and Las Vegas Raiders.