By
Phil
- 28 July 2023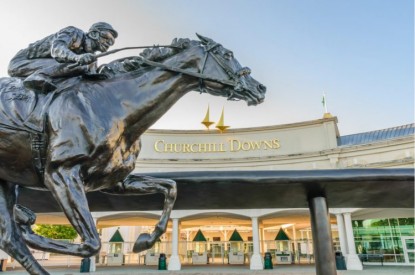 Churchill Downs has announced a renovation project that will update and refresh the Jockey Club Suites at Churchill Downs Racetrack.
The $14m renovation will modernize what is considered one of the original luxury and full-service hospitality experiences at the legendary Racetrack. The project is scheduled to be completed in advance of the 150th Kentucky Derby in May 2024.
The renovation plans will enhance all aspects of the 61 suites, common spaces, dining rooms and restrooms located on the fourth, fifth, and sixth floors in a tower directly adjacent to the historic Twin Spires along the homestretch at Churchill Downs. Originally constructed in 2004, the Jockey Club Suites seat approximately 2,500 guests which, in addition to private suites, includes the Triple Crown Ballroom, Grand Foyer, Derby and Oaks meeting rooms and the new Triple Crown Balcony and also serves as a premium rentable space for special events throughout the year.
"The Jockey Club Suites are a core premium hospitality product," said Mike Anderson, President of Churchill Downs. "This renovation project will ensure existing and future suite holders are provided the entertainment experience Churchill Downs is known for and our guests have come to expect for Kentucky Derby Week and all other racing events."
The news followed the announcement of record net revenues of $768.5m i the second quarter compared to $582.5m in second quarter 2022. The company's Live and Historical Racing segment delivered all-time record revenue and Adjusted EBITDA, with revenue up 48 per cent and Adjusted EBITDA up 36 per cent compared to the second quarter of 2022. The gaming segment delivered record second quarter revenue and Adjusted EBITDA, with revenue up 34 per cent and Adjusted EBITDA up 16 per cent compared to the second quarter of 2022.