By
Phil
- 22 May 2020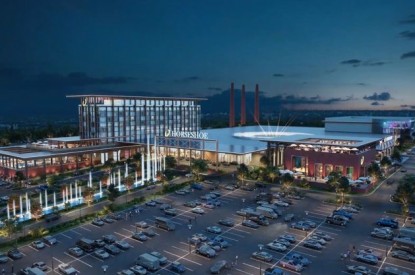 The City of Danville in Virginia has confirmed it wants Caesars Entertainment to open a casino in the city if residents agree that they want a casino in their neighbourhood in a November referendum.
Virginia lawmakers approved casino legislation in April with casinos to be introduced in five cities; Bristol, Danville, Richmond, Portsmouth and Norfolk.
Danville Mayor Alonzo Jones said: "We received several outstanding bids from a variety of companies competing to be Danville's choice for a resort casino. The Caesars bid stood out as the best for our community."
The Horseshoe-branded casino would be built at the former Dan River Mills industrial complex in Schoolfield at a cost of $400m and would boast 500 hotel rooms, a 35,000 square-foot conference center, a 2,500 seat live entertainment venue, multiple restaurants and bars, and 2,000 slot machines, 75 table games, 16 poker tables, and a sportsbook. The project would create 1,300 jobs.
Interim Director of Economic Development Carrie Bobe said: "Ideally, both the Schoolfield and White Mill sites will be redeveloped as a result of this project. As a Danville native, I know how important the redevelopment of the White Mill is to our collective sense of pride. This is an iconic structure within our community, and we are as determined as ever to ensure that it will be brought back to life as we continue to transform our riverfront."
Danville city manager Ken Larking added: "Unlike most economic development projects, this one does not involve any incentives from the city or state. It is our intention to use a portion of these upfront funds to begin construction of a new Police Headquarters and to spur private investment in the White Mill. While the City of Danville is not taking a position on how people should vote on a referendum, we felt it was important that should the voters decide to approve casinos, that the City do everything it could to make sure it is done well. This involved examining the type of development, the qualifications of the operator, and the potential for new revenue, among other factors."
Convergence Strategy Group has been hired to help officials understand the casino proposal.
Its Managing Partner Susan Leckert said: "Today the citizens of Danville should be proud. Several highly qualified and respected companies vied for the opportunity to bring their ambitious, exciting, and job-creating developments to the city. Through the competitive RFP process, each company put forth strong and highly detailed proposals, with the Council diligently evaluating and scrutinizing each on its merits and adhering to the selection criteria outlined by the State."
"The City Council has three focus areas: reduce crime, improve education, and increase economic development," Mayor Jones added. "This project provides us with an opportunity to significantly improve each of these areas for years to come."
Larking added: "The city plans to provide Danville residents a number of opportunities to share with City Council their thoughts on how to best use these new revenue sources to make investments in our community. Our goal is to lift all parts of Danville."