By
Phil
- 18 January 2021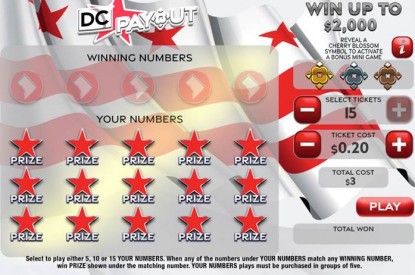 Instant Win Gaming (IWG), the leading supplier of digital e-Instant games to NASPL/WLA-member lotteries, congratulates the DC Lottery for its launch of iLottery.
DC Lottery is 24th NASPL and/or WLA-member to go live with IWG's award-winning digital e-Instant games and the seventh lottery in the US to do so.
Partnering with the DC Lottery's existing platform provider Intralot, IWG has locally-deployed its Remote Game Server (RGS) and has delivered the entire launch portfolio of eight games to support the iLottery launch.
Among the games available for DC Lottery players to play are the ever-popular Jungle Tumble, as well as custom, localized game DC Payout. IWG's custom-made releases, created for specific lotteries have proven to be hugely successful, with players appreciating content that has been personalized for their own respective markets.
Going forward the DC Lottery's roadmap has IWG providing one new game every two weeks. IWG has established that this pace of releases is optimal for ensuring rapid growth and that fresh content is regularly available to players.
IWG's reach across the North American lottery sector now includes partnerships with Atlantic Lottery Corporation, British Columbia Lottery Corporation, DC Lottery, Georgia Lottery, Kentucky Lottery, Loto-Québec, Michigan Lottery, New Hampshire Lottery, Virginia Lottery, and Pennsylvania Lottery.
Rhydian Fisher, IWG CEO, said: "These are exciting times in the lottery industry and we're delighted to have partnered with Intralot to supply DC Lottery with our award-winning digital e-instant games. I'm sure that our games will immediately find broad, loyal appeal among DC players, and will help ensure a highly successful iLottery program."
Beth Bresnahan, DC Lottery Executive Director, said: "Launching iLottery was a major step forward for the DC Lottery's modernization plans and to in offering our players new options to access innovative and entertaining games. We are very impressed by IWG's ability to adapt their content to capture the character of the District and address the local market demands. We are incredibly excited to be working with IWG as we expand our digital platform, and look forward to a prosperous relationship."