By
Phil
- 4 August 2023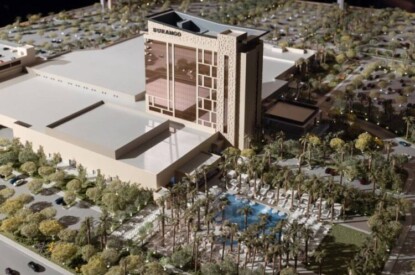 Red Rock Resorts is hoping to open its $780m Durango Casino & Resort in the southwest Las Vegas valley on November 20.
The announcement of the grand-opening came as the casino unveiled its marquee, a 60 foot high display illuminating the casino. Complementing the casino and hotel tower facades, the complete pylon sign includes textured cladding panels making for a stunning display at the all-new property.
General Manager David Horn said. "It's nice to have a vehicle to send our message out to everybody. Now we've got 60-by-55 feet of messaging to give to them as they're driving by. I think it's exciting when you see power coming on. You see the landscaping. You see the paving of the parking lot. That big garage out there ready to take people in."
Red Rock Resorts has also decided to add an extra 315 gaming machines to the project. The property will include 83,000 square feet of casino space offering the latest games and an open floorplan seamlessly blending indoor and outdoor socializing spaces, a hotel tower with over 200 beautiful guest rooms and suites, four signature food and beverage outlets, a state-of-the-art race and sportsbook and 20,000 square feet of meeting and convention space.
Stephen Cootey, Executive Vice President and Chief Financial Officer, said: "This project is situated on a 50-acre site and located in the fastest growing area in the Las Vegas valley with a very favorable demographic profile and no unrestricted gaming competitors within a five-mile radius."
Board member Lorenzo Fertitta said: "If you include the Durango phase two, that gives us eight projects that we control to grow the company over a number of years."
The company has begun the push to fill roughly 1,500 jobs.
President Scott Kreeger said: "We feel confident we'll be able to fill our needed employment with high-quality employees. We have the Sphere coming online (on the Strip), so there's a competitive market, but we think we'll compete very well."
Red Rock generated revenues of $416.1m for the second quarter of 2023, a fall of 1.5 per cent from $422.2m in the same period of 2022.