By
Phil
- 4 August 2022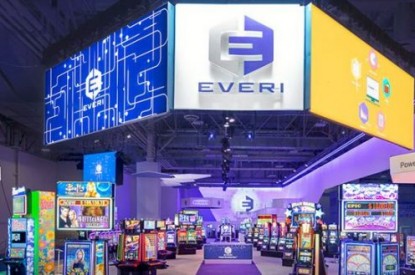 Everi Holdings, a premier provider of land-based and digital casino gaming content and products, financial technology and player loyalty solutions, saw its second quarter revenues grow 14 per cent to an all-time quarterly record $197.2m from $172.6m in the 2021 second quarter, reflecting a seven per cent increase in recurring revenues to a quarterly record $139.7m and a 37 per cent increase in sales of gaming machines and FinTech hardware.
Income before income tax increased 16 per cent to a record $42.3m compared to $36.6m a year ago.
Randy Taylor, Chief Executive Officer of Everi, said, "Our strong operating momentum continued in the second quarter, as we delivered all-time quarterly record revenues, income before income tax, Adjusted EBITDA and Free Cash Flow. These record financial results were driven by another consecutive quarter of record recurring revenues for both our Games and FinTech businesses despite the very challenging year-over-year comparison for these operations, as last year's results included the significant benefit from casino reopening activities and financial stimulus payments provided to consumers.
"Our second quarter Games segment results include our highest-ever quarterly level of gaming machines sold, which increased 40 per cent to 1,957 units; and the 13th consecutive quarterly sequential increase in our installed base of gaming operations units. Our ongoing investments in the development of differentiated cabinets and expansion of our games portfolio continues to drive increases in our installed base, strong Daily Win per Unit, and growth in our ship share of units sold. In particular, the record number of units sold in the quarter reinforces our confidence in our ability to achieve our 15 per cent ship share target over the next several years.
"Our FinTech segment is achieving similar success, as it generated record revenues, operating income and Adjusted EBITDA for the third consecutive quarter. The record quarterly performance was driven by increased revenues from financial access services, which included more than $10bn of funding delivered to our customers' casino floors for the second consecutive quarter, a record number of kiosk sales, and ongoing organic growth of our Loyalty and RegTech solutions. These results demonstrate our ability to offer industry-leading, integrated solutions that help drive increases in same-store activity and cost efficiencies for our customers. With our planned introductions of additional innovative products to our Digital Neighborhood of integrated solutions, our FinTech business is positioned to deliver consistent growth.
"Our top-line growth and focus on operational excellence continues to result in strong Free Cash Flow generation, which reached $49.5m in the 2022 second quarter and $101.1 million for the first six months of 2022. We remain focused on allocating our higher Free Cash Flow to further grow the business through prudent investments in product development, as well as with acquisitions of businesses and technologies that continue to expand the scale and scope of our product offerings and/or drive our entry into new product categories and geographical markets. As reflected in the growing contributions of our Loyalty products, our return-focused approach to acquisitions benefits our operating performance. We expect recent acquisitions, which have expanded our addressable market to include opportunities in Australia and Historical Horse Racing gaming devices, will deliver similar benefits over time. Our Free Cash Flow performance, liquidity, and strong balance sheet also enabled us to opportunistically act on our share repurchase program in the second quarter given our view that our current valuation does not fully reflect the strength of our business and our outlook for ongoing growth."