By
Phil
- 10 August 2023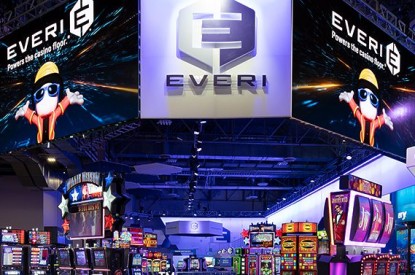 Everi has seen its revenues for the three-month period ended June 30, 2023 increase by six per cent to $208.7m compared to $197.2m in the year-ago quarter.
Organic revenues rose three per cent over the prior year, while revenues from acquisitions completed since July 1, 2022 contributed $5.3m in the quarter. Recurring revenues increased nine per cent to $151.6m from $139.7m in the prior-year period driven by growth in both the Games and FinTech segments. Revenues from one-time sales declined one per cent to $57.1m from $57.5m a year ago, driven by an eight per cent decrease in gaming equipment and systems sales partially offset by a six per cent increase in FinTech hardware and one-time software sales.
Randy Taylor, Chief Executive Officer of Everi, said: "Our second quarter results include 6% year over year revenue growth. Revenues for both our FinTech and Games segment grew as we continue to benefit from our investments in new product development as well as from several tuck-in acquisitions we completed since the beginning of 2022. Importantly, despite the impact from higher interest rates and inflationary pressures, we continued to generate strong Free Cash Flow, which positions the Company to invest in our growth initiatives and return capital to shareholders through share repurchases.
"Our FinTech segment continued to generate strong year-over-year gains across all of our product categories as revenue rose 13 per cent to an all-time quarterly record, with operating income increasing 13 per cent and Adjusted EBITDA growing six per cent compared to the year-ago period. Player funding reached an all-time quarterly record of $11.7bn, exceeding $11bn for the second quarter in a row, which drove growth in financial access services revenues. We also achieved strong year-over-year growth in hardware sales, as well as software and other revenues.
"While Games segment revenue continued to grow, gaming operations revenues and unit sales were impacted by near-term challenges during a transition period as we roll-out new cabinets and content. Following several consecutive years of growth in our installed base and increased unit shipments, we expect our Games segment revenue will be flat to slightly down in the second half of the year as compared to the second half of 2022. With the expected launch of several new cabinets in the back half of this year and first half of 2024, we expect our Games segment will return to an attractive growth profile.
"We continue to generate strong Free Cash Flow and are on track to deliver approximately $150m of Free Cash Flow in 2023. We expect to continue to invest in development initiatives to sustain longer-term growth while remaining active in share repurchases.  We are confident that we have the right product strategies and capital allocation priorities in place to continue creating value for shareholders."
Gaming operations revenues increased five per cent to $77.8m compared to $74m a year ago.
The installed base grew by two per cent to 17,812 units from 17,464 units in the prior year. The premium portion of the installed base remained relatively flat at 48 per cent when compared to the prior period.
Daily Win per Unit (DWPU) was $37.22 in the second quarter of 2023 compared to $39.94 in the second quarter of 2022. Revenues from digital gaming rose 21 per cent to $7m compared to $5.8m in the second quarter of 2022. The increase reflects new customer sites, including going live in Alberta, Canada, as well as the growth in the library of available slot content.