By
Phil
- 13 July 2020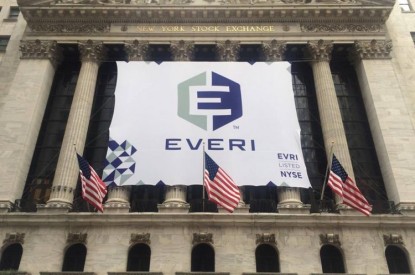 Shares in fintech gaming company Everi Holdings surged by 24 per cent last week as cashless options become more attractive as casinos reopen following the COVID-19 closures.
The increase follows the Nevada Gaming Commission (NGC) approving new laws that would make cashless more mainstream. Everi's CashClub Wallet expands on ticket-out/ticket-in technology by letting customers have winning bets deposited directly into a digital wallet, removing the necessity for players to take chips or tickets to the cage to redeem them for cash.
Roth Capital analyst David Bain said: "We believe Everi deserves the casino supplier peer-high stock multiple. Peers lack Fintech, have less earnings visibility, (heavier weighted toward one-time sales) and most have less upside optionality, in our view. Our sum of the parts (SOTP) analysis yields a base-case valuation of $17. We see a high case of $24 and a low case of $11.50. Everi's roughly 70 per cent of Fintech share in North American casinos stages natural/unique add-on technologies addressing casino loyalty, current cashless floor momentum, and outside four-wall opportunities, which other gaming suppliers (and Fintech peers) simply cannot replicate."
He added that Everi had a recurring revenue model and is more focused on tribal casinos where operators have 'lower COVID geographic and authoritarian concerns and superior recent historical organic growth.'
Mr. Bain believes Everi will generate EBITDA of $37m, coming in above the Wall Street average of $27m, for the second quarter of 2020.